Lumberjack National Championship to Take Place at Lumberjack Feud in Pigeon Forge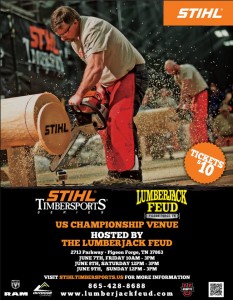 We're so excited to hear that Pigeon Forge will be hosting another world class event next month when the STIHL® TIMBERSPORTS® Series U.S. Lumberjack National Championship takes place at Lumberjack Feud!
Running from June 7-9, more than twenty of the most renowned and talented lumberjacks in the country will square off in a series of competitions to determine the national champion.
There are 6 different categories in which the lumberjacks will compete:
Underhand chop
Springboard chop
Standing block chop
Stock saw
Hot saw
The competitors will start in groups of 10 on Friday, June 7th, with the top 5 from each group advancing to the championship rounds on the following Saturday.
The winner will be named the STIHL® TIMBERSPORTS® Series National Champion and additionally will win a new Ram Truck and automatically qualify for the World Championship in Stuttgart, Germany Oct. 25-26.
Sunday the 9th will feature the Collegiate Championships. Here, the top 6 collegiate lumberjacks will compete for a chance to qualify for a spot in the STIHL® TIMBERSPORTS® Series professional ranks in 2014 and also for a spot on the international rookie team at the World Championship.
All of the events will be televised with the Outdoor Channel airing recordings of the competitions on June 16, 23 and 30.
If you're planning on visiting Pigeon Forge that weekend (June 7-9) you'll definitely want to stop and check this competition out. It's one of the most prestigious lumberjack events in the world. The Lumberjack Feud is always a fun and exciting show and with some of the world's greatest lumberjacks on hand it's sure to be a memorable experience! Tickets to the events are on sale now and can be purchased online.
DAILY EVENT SCHEDULE
Friday, June 7 from 10 a.m.-3 p.m.
Top 20 U.S. pros compete in six disciplines with the top 10 advancing to the final round on Saturday.
Saturday, June 8 from noon-3 p.m.
Top 10 U.S. pros compete in six disciplines. Top performer is crowned the 2013 U.S. champion.
Sunday, June 9 from noon-3 p.m.
Six collegiate lumberjacks compete in four disciplines for the Collegiate Championship title; U.S. Relay – Five regional teams and one college team of four competitors face off in a four-discipline race to determine the best lumberjack team in the country
If you want to see some of the action before the show airs, you can views images on our Pinterest Board: Pigeon Forge Events.