Meet Martha! Our Pigeon Forge Mascot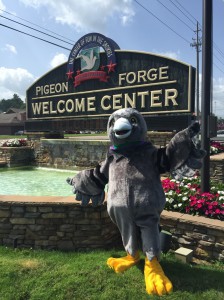 There's a new bird in town! The City of Pigeon Forge is welcoming its newest resident to the area – meet Martha the passenger pigeon. Martha is the official mascot of the City of Pigeon Forge, and is named in honor of a notable passenger pigeon.
Let's take a quick trip back to the late 1700s and early 1800s era in Pigeon Forge. The historic Old Mill as it is now referred to was just in its prime, the 'forge' that contributed to the city's name was not even in the works yet, and passenger pigeons filled the sky and lined the trees of the river. This was the beginnings of the Pigeon Forge that you know today.
The river that runs through the city was eventually named Little Pigeon River because of the passenger pigeons that roosted along it. Take the name of the river, plus the 'forge' that Isaac Love constructed in 1817, and there you have it – Pigeon Forge!
Unfortunately, passenger pigeons are extinct today. The last living passenger pigeon was named Martha after George Washington's wife. Martha the passenger pigeon lived at the Cincinnati Zoo her entire life. When Martha passed away in 1914, her body was sent to the Smithsonian Museum where she was preserved and put on display.
The mascot will serve as a tribute to both the rich history of Pigeon Forge and Martha. She will most likely be seen at city-wide events, and will even travel across state lines to excite others about Pigeon Forge, the Land of More.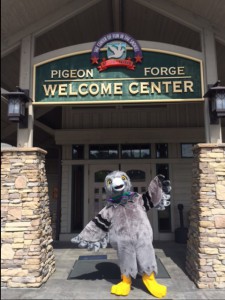 For more information about Pigeon Forge and Martha, visit MyPigeonForge.com or call 1-800-251-9100. To learn more about the history of Pigeon Forge, visit CityofPigeonForge.com.
Where would you like to see Martha while visiting Pigeon Forge? Let us know on our Facebook page at https://www.facebook.com/MyPigeonForgeTN.