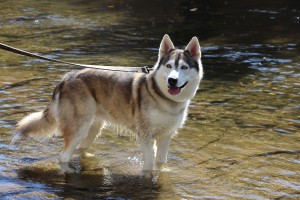 Ready to visit Pigeon Forge, but don't want to leave your furry friends behind? You don't have to! Pigeon Forge has plenty of places that you and your pooch can enjoy together.
Eat & Play
At the Island, there is room for your pet to roam, or take a seat around the show fountains to watch this amazing water show that synchronizes with the music. Speaking of music, Ole Smoky Moonshine features live bluegrass daily at their outdoor stage, so grab a rocking chair and sit back and enjoy the sounds of the south.
Getting hungry? There are food kiosks scattered throughout the Island where you can grab something quick and get back to the action.
When your pets need a little extra running space, take them over to Patriot Park. Patriot Park is located right by the Old Mill and has a ½ mile loop trail that goes by the river. In the center of the loop is a large grassy area, perfect for playing fetch! For some nice scenery, you can travel the Greenway Trail from the Old Mill area all the way to the Island. This trail runs along the river and is also well-lit at nighttime.
If you're headed to the mountains, there are a couple of pet-friendly trails that you should certainly check out. The Gatlinburg Trail will lead you from Sugarlands Visitors Center to the outskirts of the city of Gatlinburg, TN. It is 1.9 miles long one-way, and is used frequently by joggers, walkers, and bicyclists. There is a beautiful bridge along the way and some remnants of old homesites. The Oconaluftee River Trail is another trail in the park that allows pets. It is 1.5 miles one-way in distance and will take you from the Oconaluftee Visitor Center to the outskirts of Cherokee, NC.
Dollywood is a must-do while in Pigeon Forge, and you can be sure that while you enjoy your time in the park, your pet will enjoy its time at Doggywood! Doggywood offers spacious and cozy Kennel Runs or Cottages for your dog to spend the day. Just keep in mind that reservations are highly recommended.
Stay
When it's time to turn in after a fun-filled day with the entire family, you can choose between one of the many lodging options in town that offer pet-friendly rooms. Campgrounds are always a great place to make your family and pet happy while staying in town. Enjoy a walk through nature and a splash in the river right outside your front door!  Our Travel Planner indicates all of the properties that are pet-friendly with a circle under the icon that looks like a dog's paw. You can request a Pigeon Forge Travel Planner or look at the electronic version here.