Places to Get your "Cowboy" On
One of the things I love most about Pigeon Forge is that you can find activities for all ages and for most interests there. There is something for the adventurous, for the shoppers, for the food connoisseurs, and yes, even for the cowboys and cowgirls in your life (or those of us who want to be)!
Stages West is one place you do not want to miss. They know cowboy fashion and style and I love browsing throughout this store. Their selection of boots is to die for! You can even have custom boots made just for you. They also carry a great variety of Brighton jewelry, purses, and belts. Our little divas love the fact that some of the boots and clothing are "blingy" and of course, pink. Dad doesn't even mind hanging out in this store. They definitely make "cowboy" fashion fun and I can't wait to see the newly expanded store coming in June.
If you are looking to hear some good country music and see some great dancing then you need to check out the Country Tonite Show. It is a class act. They combine classic country music with today's new hits. We find ourselves singing right along with them! Peanut likes to stand out in the middle of the aisle and dance along with them as they clog across the stage. The show also has youth performers which helps keep the little divas entertained. Then after the show, you can meet them!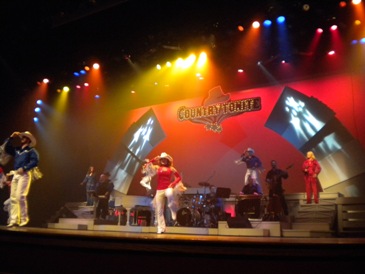 Dixie Stampede is another fun show. You can listen to some entertaining bluegrass and country music during the pre show in the Carriage Room. Then head on into the show and watch the horse riding stunts performed by the cowboys and cowgirls from the North and South. It is fun family entertainment and they will fill your "cowboy" belly up too with their country feast. Don't forget to visit all of the show horses on your way in!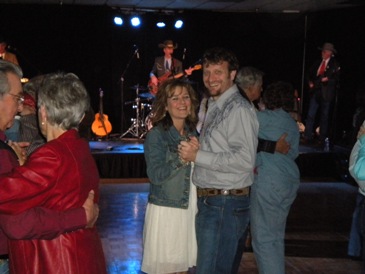 Also mark your calendar for Saddle Up! in Pigeon Forge. It is 4 days of western heaven, scheduled for February 23 – 26, 2012. There will be cowboy poets, western music, a chuckwagon cook-off, a western dance, and even cowboy church. This weekend of fun will definitely inspire the "cowboy" in you. It is a great tribute to our American West heritage and something we love to attend.
So all of you western lovers, you'll fit right in at Pigeon Forge!