Tourist Tuesday: April 23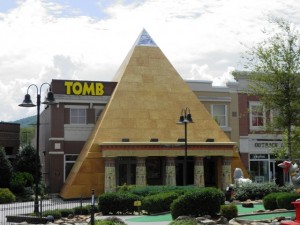 For this week's Tourist Tuesday, I caught up with a mother of three who's visiting Pigeon Forge, Amy Treadwell of Lookout Mountain, AL.
"I've got two boys and a girl; ages 6, 10, and almost 12," said Treadwell.
Treadwell and her husband Danny have been to Pigeon Forge several times over the years and love bringing the whole family every couple of years.
"I think the kids like it because there's always new things to kind of explore or go and ride," said Amy. "Each time we come there are new shows or buildings and they get really excited."
When asked which attractions they loved to visit Amy responded that Dollywood took the cake but they really liked WonderWorks and the new Hollywood Wax Museum. Both located just off the Parkway almost as soon as you enter Pigeon Forge.
"We hadn't been to either one so that was definitely an experience. WonderWorks was really fun for them (the children) but there was some cool stuff in there for dad and I also."
Amy was taking a short break away from the family doing some shopping at The Incredible Christmas Place when I spoke to her. She said they just came in on Sunday and had a very busy week scheduled.
"We went to a movie last night and saw The Tomb pyramid explorer place so we definitely will check that out before we leave too."