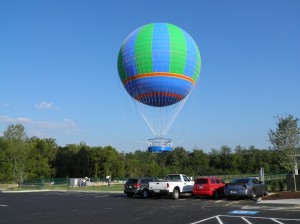 Our guests this Tuesday are Robbie and Lynn Fielder and their 8 year old daughter Candace from Robbinsville, North Carolina.
The Fielders say that while they love the scenery of the area, the main reason they come to Pigeon Forge is for the various attractions and shows.
"We live just across the mountains so we're used to those," said Robbie. "We mostly come for Dollywood and the go-karts and all the fun stuff."
The Fielders are here for just a few days and they informed me that they're trying to pack each day full of different activities while they're here. "We got in just yesterday, but we've already been to several different places. We ate out at Mama's Farmhouse for Fathers Day."
I learned that Candace is dying to go to WonderWorks and to ride the giant balloon at Wonders of Flight which rises 400 feet high above Wonderworks.
"We're wanting to try that balloon. None of us are scared of heights so we hope it'll be great," said Lynn.
The Fielders also said that one of the first things they noticed when they arrived to Pigeon Forge was the Great Smoky Mountain Wheel at The Island. I told them that the long-expected opening was just a few days away and they're hoping they can stay long enough to try it out!