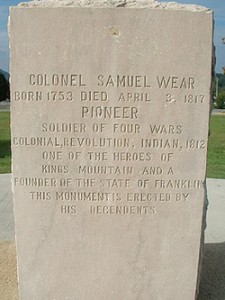 Pigeon Forge is a city that has prided itself on patriotism for many years and has made an effort to always honor our nation's veterans. This past Tuesday we celebrated Veterans Day with our Salute to Veterans Parade. One of the most well-known Pigeon Forge veterans is Samuel Wear.
Wear was a veteran of the Revolutionary War, the War of 1812 and several other conflicts. He served alongside John Sevier as one of the Overmountain Men in the famous Battle of Kings Mountain in 1780.
He was the first county clerk of Sevier County, beginning in 1786- when Sevier County was part of the State of Franklin and continuing through 1796 when Tennessee officially became a state.
Fort Wear built by Wear in 1782, offered protection for settlers in the area that would later become Pigeon Forge. A historical marker for this fort can be found behind the Pigeon Forge community center. A monument dedicated to Wear and his service, placed by his descendants is located behind the Pigeon Forge public library.
Wears Valley (located just outside Pigeon Forge) is also supposedly named after Wear.
Wear died in 1817 and is buried in the large cemetery near Henderson Chapel Baptist Church in Pigeon Forge.
Driving Directions to Fort Wear Historical Marker: Traveling north on U.S. Highway 441, the Parkway, turn at traffic light #2B onto Community Center Drive.  Travel .1 of a mile, and turn right onto Library Drive.  Travel .2 of a mile on Library Drive behind the library and the community center, and turn right into the tennis courts' parking area.  Fort Wear Marker is on the right. Nearby postal address: 2449 Library Drive. Coordinates: 35° 48.405′ N, 83° 35.006′ W.