Island Adventure Mirror Maze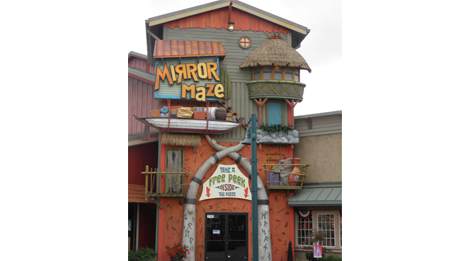 Get lost again and again in a uniquely designed attraction for the whole family at the Island Adventure Mirror Maze! With over 3,000 square feet of tantalizing mirror combinations, challenging circles, dead ends, and corners filled with mirrors, it's easy to get stranded and tricked. Family's and groups have a better chance of figuring out the mind-bending maze by working together however if you think you can figure the maze out on your own, give it a go!
Other features at the Mirror Maze are comprised of two attractions for children that are included with the mirror maze admission. The Laser Maze allows children to bring out their spy moves as they climb over and under an assortment of security lasers. What makes it even more challenging is the time tracker that will measure how fast you complete the course. Compete against yourself or friends in this Mission Impossible type setting and race against the clock! The other attraction is the brand new, Atomic Rush. This will challenge both your brain and quickness in a high tech Simon Says type of game. Stay on your toes and keep the mind sharp to aim for the high score. Admission to Mirror Maze allows unlimited access to the whole family and makes for a must do during a stay in Pigeon Forge.