NEW AIRLINE ROUTES MAKE TRAVELING TO PIGEON FORGE A BREEZE
This spring and summer, travelers from destinations including Austin, Boston, Chicago, Houston and Myrtle Beach, will have a better way to get to and from popular vacation spots in East Tennessee.
The closest major airport for travelers heading to Pigeon Forge and the Great Smoky Mountains of East Tennessee is Knoxville's McGhee Tyson Airport. Located just 47 miles from Pigeon Forge, TYS offers connecting services from cities including Minneapolis, Orlando, Philadelphia, Dallas and Washington.
Allegiant Air is one of five airlines currently servicing flights to McGhee Tyson Airport. American Airlines, Delta, Frontier and United also offer connecting services to and from Knoxville.
Allegiant Air has just announced that new nonstop flight routes will be opening from five new destinations. Flights from Austin, Boston, Chicago and Houston are scheduled twice-weekly from May through November and Myrtle Beach flights will be on a summer schedule only. The continued expansion of quality low-fare air service to the East Tennessee region makes getting to and from Pigeon Forge a breeze.
Pigeon Forge, the South's most popular family vacation destination, sits at the foothills of Great Smoky Mountains National Park. In addition to its majestic mountain views and abundance of outdoor activities, Pigeon Forge also has one-of-a-kind attractions, top-notch entertainment and all your Southern favorites served family style. It's the ideal place to make memories with friends and family that will last a lifetime.
Estimated Flight Times to Knoxville: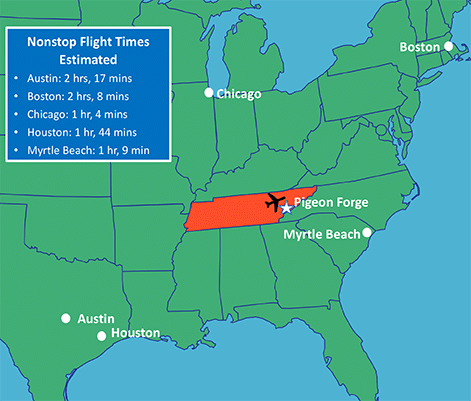 Austin: 2 hrs, 17 mins
Boston: 2 hrs, 8 mins
Chicago: 1 hr, 4 mins
Houston: 1 hr, 44 mins
Myrtle Beach: 1 hr, 9 mins
To view all available Allegiant direct flights to McGhee Tyson Airport, click HERE.