Pet-Friendly Smoky Mountains
Great Smoky Mountain National Park is a great place to spend quality time together with the whole family, including your furry friend. Pets are allowed in the campgrounds and picnic areas of Great Smoky Mountain National Park, but they must be kept on a leash at all times. Remember to be a responsible pet owner and clean up after your pet. The park also has two specified pet-friendly hiking trails that you'll want to check out.
Pet-friendly Hiking Trails in the Smokies
The Gatlinburg Trail begins at Sugarlands Visitors Center and ends near the outskirts of the city of Gatlinburg, TN. The trail is 1.9 miles long one-way, and is used frequently by joggers, walkers, and bicyclists. There is a beautiful bridge along the way and some remnants of old homesites.
The Oconaluftee River Trail is another trail in the park that allows pets. It is 1.5 miles one-way in distance and will take you from the Oconaluftee Visitor Center to the outskirts of Cherokee, NC. Make sure to bring your camera, as there are a plenty of great photo spots to capture memories of your four-legged friend's adventure in the Smokies.
*Parking passes are now required in Great Smoky Mountains National Park for visitors parking for more than 15 minutes. Learn more about the Park it Forward program.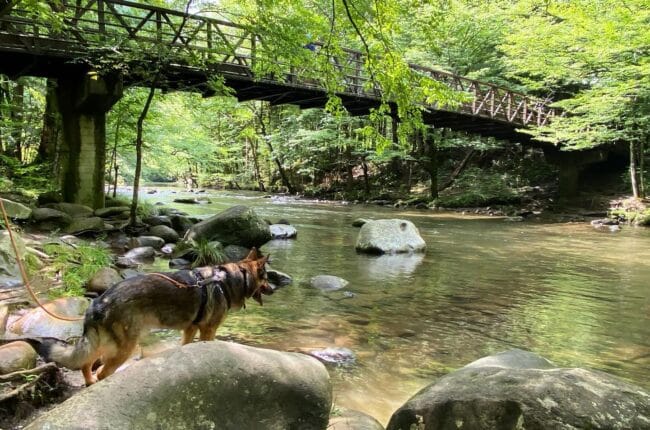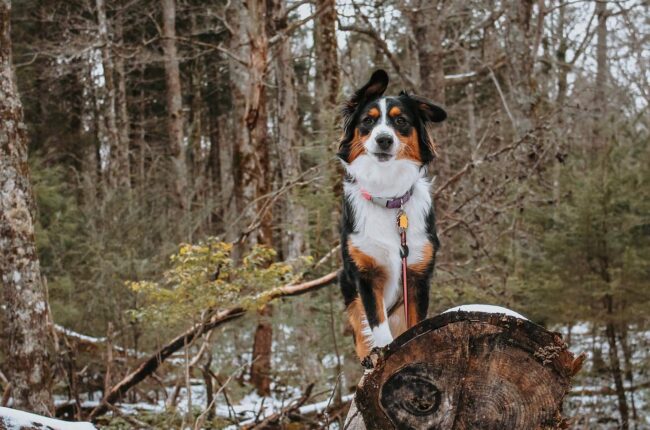 Scenic Drives in the Smoky Mountains
Another great way to explore the park with your pet is on a scenic drive. A driving tour of Cades Cove takes you through one of the most scenic areas of the national park. Pets can sit back and ride along in the car as you travel the 11-mile one-way loop. Cades Cove Loop Road is home to an array of historic buildings and sites and is one of the best spots for viewing wildlife. Just keep in mind that pets are not allowed inside the historic buildings or mill.
Other great scenic drives through Great Smoky Mountains National Park include Newfound Gap, Roaring Fork and Upper Tremont.
For more information on pet-friendly options in the National Park, click HERE.