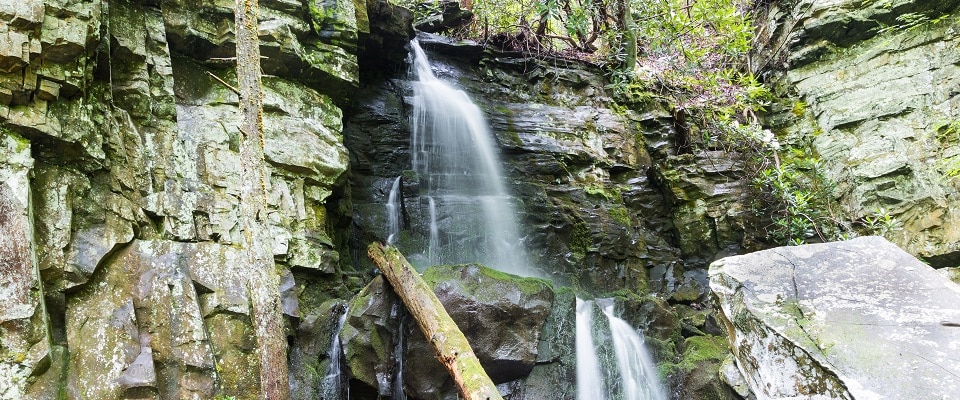 Baskins Creek Falls is one of the most popular Pigeon Forge attractions for nature lovers. It's known for offering some of the most scenic views in the Smoky Mountains that are easily accessible for families and hikers of all ages.
Length: 3.0 Miles Roundtrip
Duration: 2 to 3 hours
Trail Difficulty: Easy
Highest Elevation: 2,927 feet
Total Elevation Gain: 953 feet
Scenery: Waterfalls
Hiking to Baskins Creek Falls
The 3-mile round trip trail begins with an easy ascent. About a quarter mile into the hike the mountain views begin and the trail levels off. When the vegetation is sparse in the winter and early spring you'll have the best views at this level.
Just short of mile marker one there's a descent with no footbridge. It's best to avoid the trail after a good rain since this spot could be washed out. During sunny weather you can head down deeper into the heart of the Smoky Mountains where you'll come across a side trail to Baskins Cemetery.
Keep going and you'll pass over a small creek before arriving at the trail junction. Go left at the junction to continue on to the falls. The Baskins Creek trail will get somewhat rugged as you make your way down the last 50 yards or so to the falls.
The mile and a half hike to Baskins Falls is well worth the spectacular view of the glistening 40-foot waterfall. Two tiers of water cascade down the towering moss-covered cliff side to a pool at the end of the trail. There's ample space to relax and rest up before the 1.5-mile hike back or have a picnic lunch. Resting up is a good idea since you'll be going uphill much of the way back.
Baskins Creek Falls is the perfect hike for anyone that likes taking the road less traveled and is looking for Pigeon Forge attractions that are free of crowds.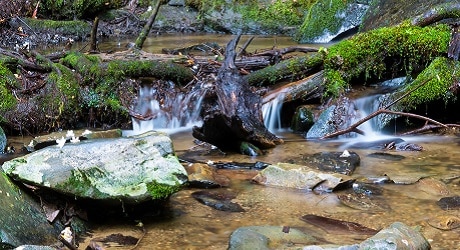 Directions to Baskins Creek Falls from Pigeon Forge
Baskins Creek Falls is located a short distance off the Roaring Fork Motor Nature Trail just 11.4 miles south of Pigeon Forge. It's one of eight attractions along the trail. You can easily visit Baskins Creek Falls, Rainbow Falls, Grotto Falls and several other scenic spots in a single trip.
Take US 441 south to Gatlinburg.
Turn right on East Parkway.
Turn left on Cherokee Orchard Road.
Continue to the left when the road ends and meets with Historic Nature Trail.
Hang to the right at the fork in the road, which begins a one-way loop.
Roaring Fork Motor Nature Trail will be 0.9 miles down the loop on the right.
Go another 0.2 miles and you'll be at the trailhead for the Baskins Creek Trail.
Day Hiker's Checklist
Touring the Pigeon Forge area and hiking through the legendary Smoky Mountains is easier and more enjoyable when you have the right supplies. Make sure to pack the items below if they aren't already in your backpack.
Water – Take a least one large water bottle per person for short hikes and two quarts per person for longer hikes.
Map – Keep a park map with you at all times.
Flashlight – It's always a good idea to pack a flashlight or headlamp and extra batteries in case you're caught out on the trail after dark.
Raingear – Rain jackets or ponchos could be needed at any time of year in the Smoky Mountains. During the winter it's also advisable to pack rain pants.
Matches – Bring at least on pack of waterproof matches.
Whistle – In the event you get lost, a whistle can be used to make your location known and signal rescuers.
Extra Clothes – A few extra clothing items made of fleece or wool is recommended anytime you're hiking in the winter or at higher elevations.
Food – Bring numerous high-calorie, high protein snacks for each person.