8 Brunch Spots in Pigeon Forge to Fuel Your Day on the Parkway
They say breakfast is the most important meal of the day, and we couldn't agree more! And what's even better than breakfast? Brunch. Whether you're an early bird or looking to sleep in a bit, we've rounded up a list of delicious brunch spots in Pigeon Forge to fuel up for a fun day on the Parkway.
Sawyer's Farmhouse Breakfast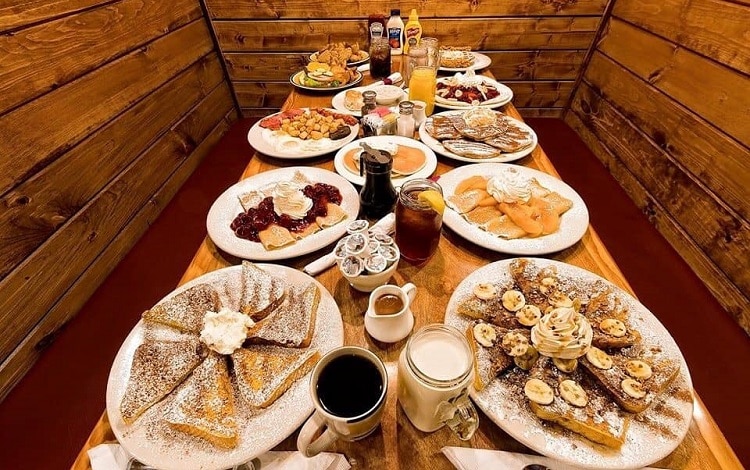 Sawyers Farmhouse Breakfast is a locally owned and operated restaurant in Pigeon Forge. They serve a variety of brunch options from crepes, Belgian waffles, made-from-scratch pancakes, omelettes, and so much more. If you're feeling more like lunch than breakfast, that's no problem. Choose from burgers, sandwiches, salads, or hand-breaded chicken tenders and fries.
What to Try: Sweet Crepes. Filled with delicious fruit, sprinkled with powdered sugar, and topped with whipped cream, you can't go wrong with anything from the crepe section of the menu.
Hours: Every day from 8am – 2pm.
Sunliner Diner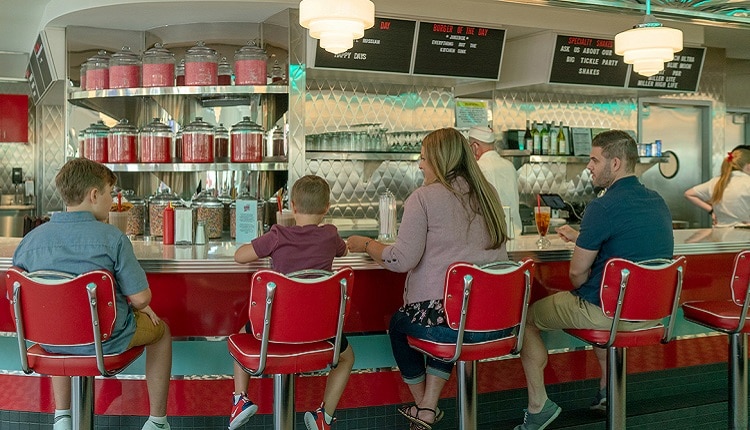 Sunliner Diner is your classic 1950s themed American diner. With their retro newspaper menus, collector cars, and hand-spun milkshakes (yes, milkshakes are brunch-approved!), this Pigeon Forge brunch spot will take you back to a special moment in American history. Breakfast is available all day, and lunch and dinner dishes — such as chicken & waffles and meatloaf, are an option after 11am.
What to Try: Candied Bacon. The diner takes its thick-cut smoked bacon and transforms it into a sweet and savory treat!
Hours: Every day from 7am – 10pm. 
Mama's Farmhouse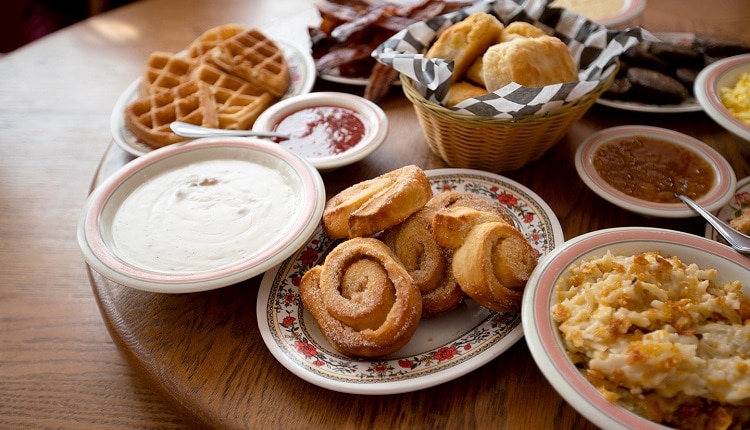 Mama's Farmhouse is a mouth-watering all-you-can-eat option in Pigeon Forge. Servers will bring a portion of each item on the menu that day for you and your table to try. Want more of something? Tell your server and they will bring you a fresh serving of your favorite breakfast staples or specialty entrees.
What to Try: EVERYTHING. Whether you make it for breakfast or head there for lunch, their award-winning buttermilk biscuits will always be on the menu.
Hours: Closed on Wednesdays (Breakfast: 8am – 11am, Lunch: 11am-3pm). 
Brick & Spoon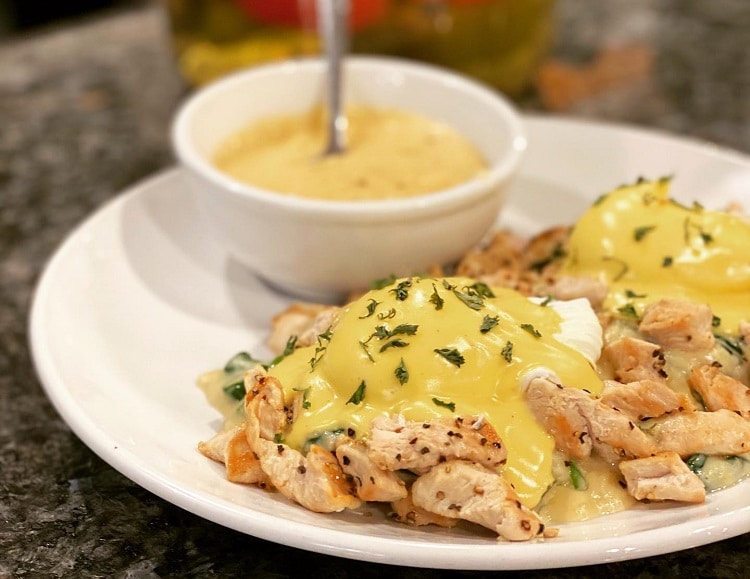 Brick & Spoon is a franchise that serves a high-quality southern experience for those who want an accessible and sophisticated breakfast, brunch, and lunch experience. Whether you want a meal and music, or just a place to enjoy a cup of coffee, you'll find what you're looking for at Brick & Spoon in Pigeon Forge.
What to Try: Eggs Benedict. Brick & Spoon offers several "Bennys," from classic to chicken florentine and even a crab cake benedict.
Hours: Every day from 7am to 2pm. 
Frizzle Chicken Cafe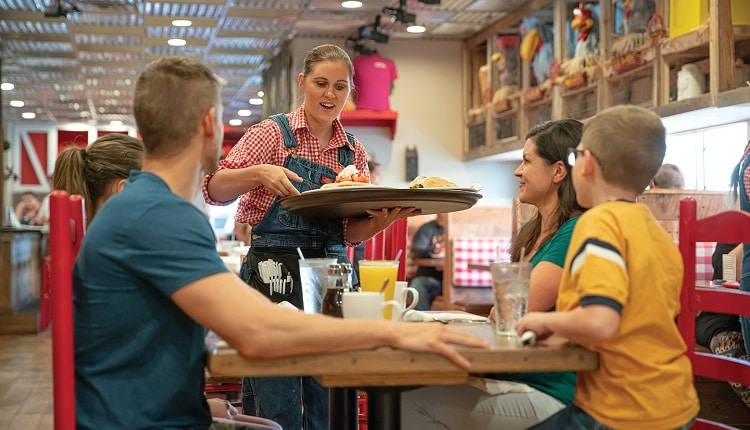 Stocked with over 100 singing animatronic chickens, the Frizzle Chicken Farmhouse Cafe is ready to serve you the best and MOST FUN Southern-style breakfast and lunch you have ever tasted. Prepare to be serenaded by animatronic chickens while you enjoy pancakes, waffles, sandwiches, and more. There's no secret why this restaurant is on our list for the best kid-friendly restaurants in Pigeon Forge!
What to Try: Cinnamon Bun Pancakes. The plain pancakes are great on their own, but add some cinnamon and sugar, and this classic breakfast item is taken to an even sweeter level.
Hours: Every day from 7am to 1pm. 
Pottery House Cafe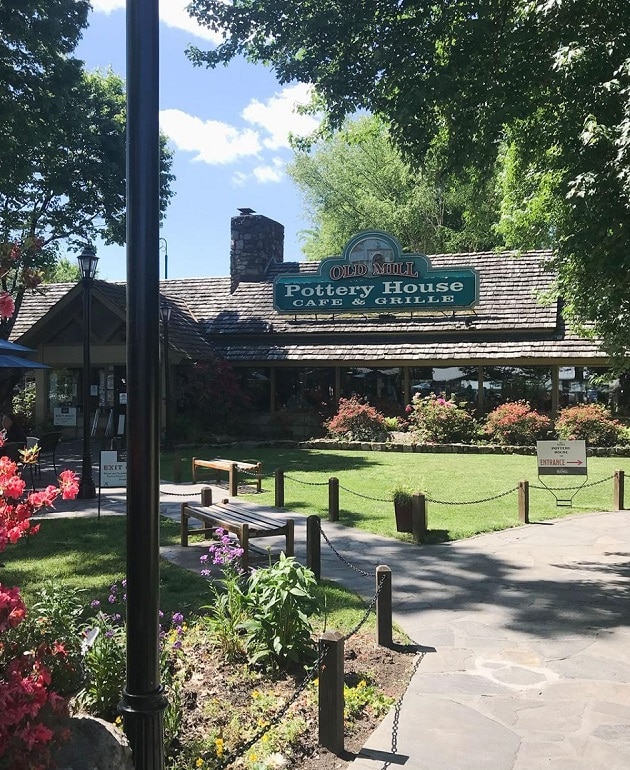 Pottery House Cafe's menu items are made from scratch with quality local ingredients. Their famous breads are baked on-site daily, with grains straight from the mill. Their brunch menu is served on weekends only, so make sure to plan accordingly if you want to try their special skillets and sweet breakfast items. 
What to Try: Cinnamon Raisin Pecan French Toast. Pottery House Cafe cuts a thick piece of their homemade cinnamon raisin pecan bread, dips it in a seasoned batter, and serves it with a side of butter and syrup. Need we say more?
Hours: Brunch is served from 10am to 2pm on Saturday and Sunday. 
Puckett's Grocery & Restaurant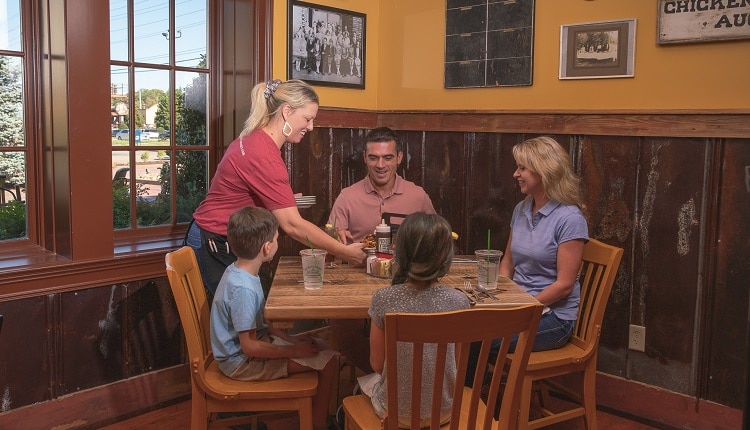 From sizzling skillets to breakfast platters, Puckett's Pigeon Forge brings out all the stops when it comes to brunch. This authentic Southern eatery is known for its live musical performances, but their breakfast menu items will catch your eye (and get your stomach grumbling). Pro Tip: Order a giant cream cheese-glazed cinnamon roll for the table to start.
What to Try: The King's French Toast. This fan-favorite pays homage to "The King" Elvis Presley with peanut butter-cream cheese fluff and fresh bananas.
Hours: Open daily, with breakfast served until 2pm. 
Mel's Classic Diner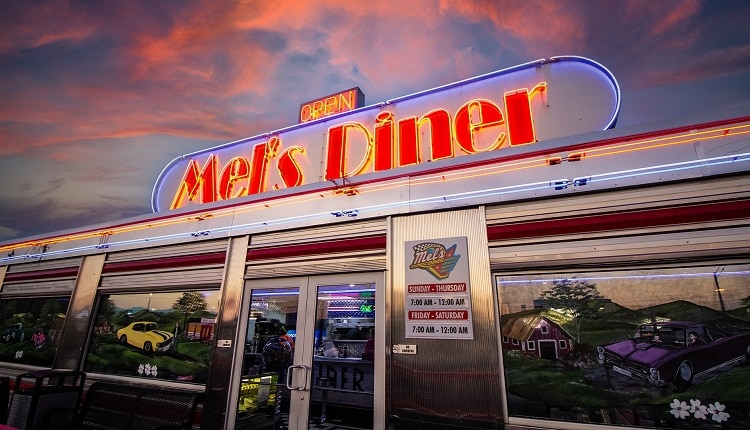 Since 1993, Mel's Diner has offered its guests a classic 50's diner experience with great American food and atmosphere. Mel's has all of the food that you would expect, from hearty breakfast meals to juicy burgers and legendary banana splits. Their breakfast menu is so good that it's served all day long. Get pancakes, eggs cooked to order, french toast, and all of your favorites, any time of the day.
What to Try: The "Mo For Your Money" Breakfast Special. When you can't decide, just order it all: Eggs, hash browns or grits, a short stack of pancakes, bacon and sausage.
Hours: Open every day from 7am to midnight.
No matter where you choose, you can't go wrong with these brunch spots in Pigeon Forge. A hearty meal is waiting for you on your next vacation here, and the hardest decision will be which menu items to choose!