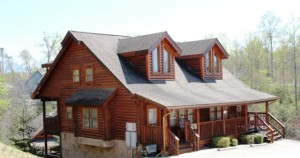 Cabins and chalets are the perfect accommodations to offer the down home mountain feeling during your stay in Pigeon Forge. Log cabins and rustic log framed furniture exude coziness and peacefulness. Many of the cabins offer great views of the Smoky Mountains and beautiful nature scenery of the area.
What should you ask?
As a mom, you always want to make the most out of every vacation and I feel obligated to make sure that everyone has a happy and safe time. There are many things to consider in cabins, especially if you are traveling with kids.
Bedrooms: How many bedrooms are located on the main floor? What size bed or beds is in each room? Is there a sofa sleeper in the main floor living area?
Kitchen: Is the kitchen fully equipped? Are there dishes, cookware, etc.? What paper goods do they supply?
Laundry: Are there laundry facilities in the cabin or on the property?
Housekeeping: Do they offer daily cleaning services or are you responsible upon checkout to do certain things?
How many levels are there? Are there any rooms on the second floor that are open to the downstairs that might be troublesome for toddlers.
Is there a fireplace? If so, is it wood burning or gas? Is there also central heat and air? Or are you wanting to rough it and take in something more rustic?
Entertainment: Is there a game room in the cabin? Is there a pool or other activities available on the property?
Are pets allowed?
In certain seasons or during certain times, could you get a complimentary upgrade to a cabin with a better view?
How to decide?
Once you have all of your questions answered, deciding on the cabin that is perfect for your family is the next step. For us, location is important. Knowing how far away the cabin is from the Parkway and area attractions weighs heavy in our decision making. For other people, a location in the more secluded areas may be important.
Cost may also be a factor. Most of the cabins offer lower prices during off seasons, typically winter, as well as a discounted rate for longer stays. Don't forget to check the Value Card in the Pigeon Forge Travel Planner for discounts at several area cabins or check the website of the cabins you are looking at, as they often offer a discount for booking online.
With over 1,300 cabins and chalets in Pigeon Forge, you are sure to find one that suits your every need and more!