Best Ice Cream Shops in Pigeon Forge
Stop in for a scoop of your favorite sweet treat!
From bubble teas to classic ice cream cones, you'll find the best selection of ice cream right here in Pigeon Forge. As you explore all the great family-friendly attractions and activities found up and down the Pigeon Forge Parkway, allow time to stop in for a sweet treat at one of the best ice cream shops in Pigeon Forge.
In addition to all the fun-filled attractions and activities you'll find in Pigeon Forge, you can also indulge in some of the tastiest, sweet treats all throughout town. Make sure to check out both the local creameries and the more well-known shops to find your new favorite flavors. Throughout your conquest, you'll be delighted by the variety of options available to satisfy your cold dessert cravings at these classic and one-of-a-kind ice cream shops in Pigeon Forge.
Dulce Nitrogen Ice Cream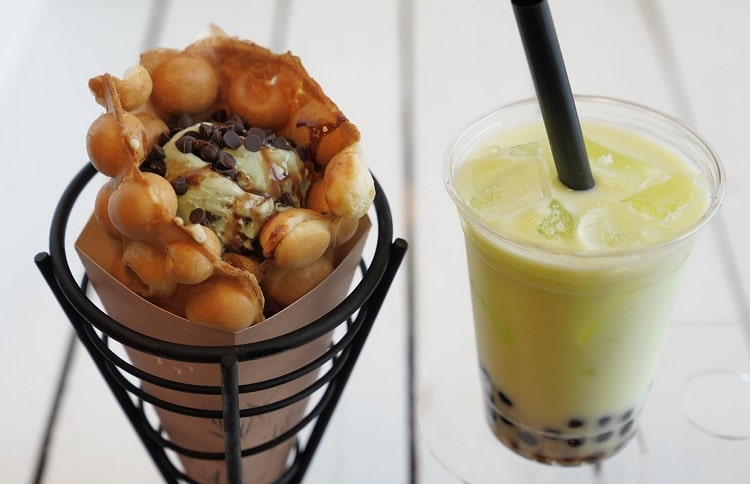 Dulce Nitrogen Ice Cream is the perfect family-owned shop in Pigeon Forge to cool off and get a taste of freshly made ice cream, and bubble teas. Dulce Nitrogen Ice Cream serves up customized drinks, milk teas and coffee, as well as flavored teas and lemonades. Their bubble drinks are traditionally served with tapioca pearls inside. They can be served with popping boba as well, which are juice-filled spheres that burst with juices inside of your beverage. Dulce Nitrogen also uses liquid nitrogen to create a delicious ice cream with a smooth texture. Get a scoop served in a waffle cone or in a freshly made bubble waffle with the toppings and fillings of your choice!
Baskin Robbins Ice Cream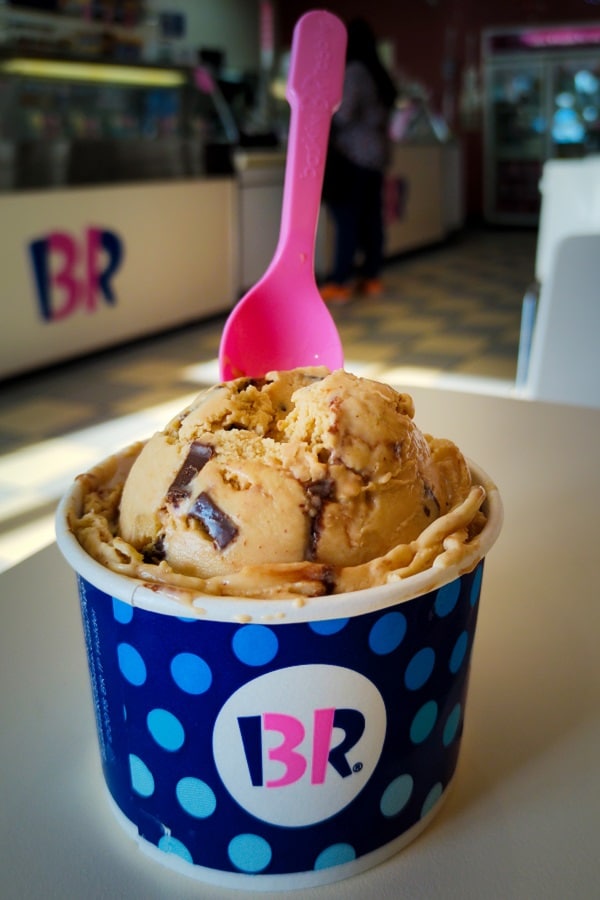 Get a scoop of a familiar taste that everyone loves! After exploring the Smoky Mountains on a warm summer day, there's no better way to cool off than with a stop at the world-famous Baskin Robbins. With 31 flavors of ice cream to choose from, you can't go wrong with a scoop or two of your favorite flavors. This Baskin Robbins location is conveniently located on the Parkway right before turning to go straight towards Dollywood.
Marble Slab Creamery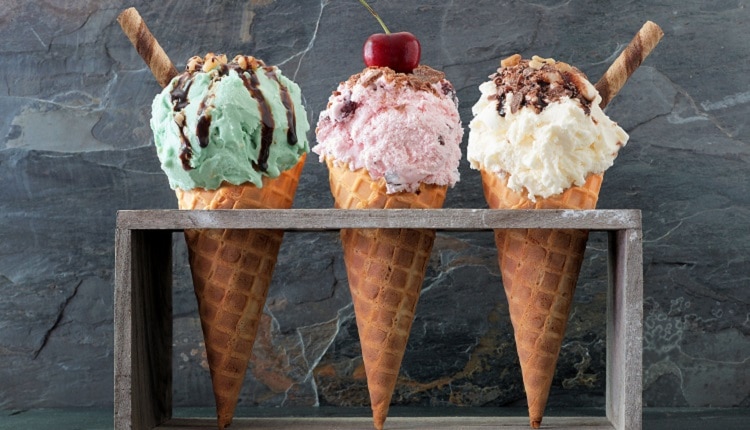 Another name in ice cream you're sure to recognize is Marble Slab Creamery, with its authentic homemade ice cream and 75 flavors, with unlimited mix-ins. Every batch of ice cream is made in small batches using fresh dairy ingredients from local farms and flavor ingredients from across the globe. Choose from a nearly endless list of ice cream flavors, then watch as the ice cream is scooped onto a frozen "marble slab" where your choice of toppings is skillfully blended and piled onto a waffle cone. It's one of the most customizable ice cream shops in Pigeon Forge you'll love to experience!
Buzzed Bull Creamery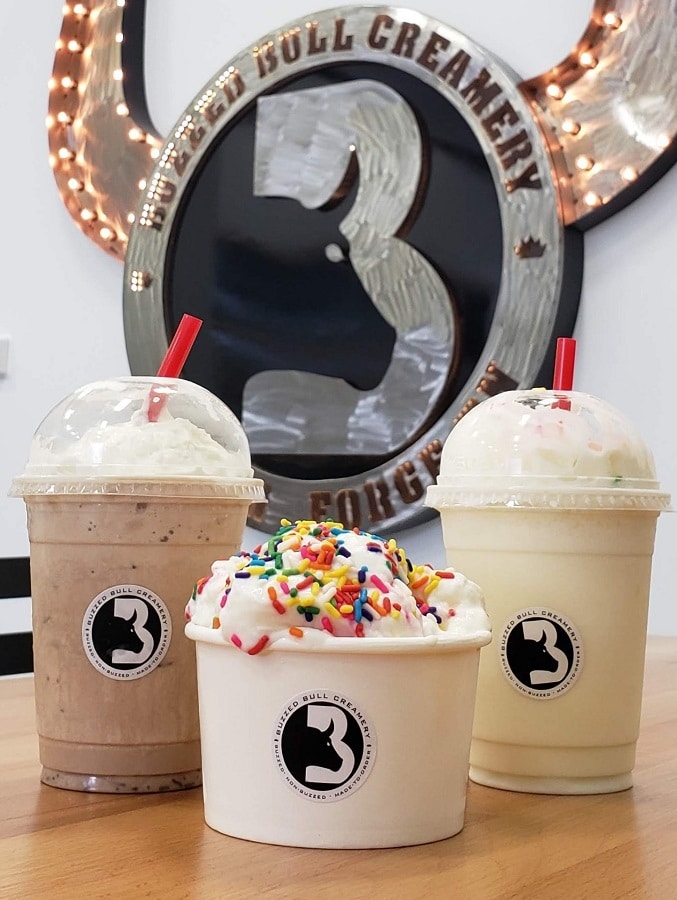 The power of liquid nitrogen has introduced a whole new ice cream experience in Pigeon Forge. For the freshest ice cream and milkshakes, as well as a one-of-a-kind experience, Buzzed Bull Creamery is making ice cream fun for everyone. Create your dream dessert by mixing and matching over 30 available flavors, mix-ins and toppings. Adults can also have fun getting a scoop of the alcohol infused milkshakes and ice creams. You're sure to enjoy a taste of the unique and delectable fun that liquid nitrogen offers.
Cream and Sugar Sweet Shoppe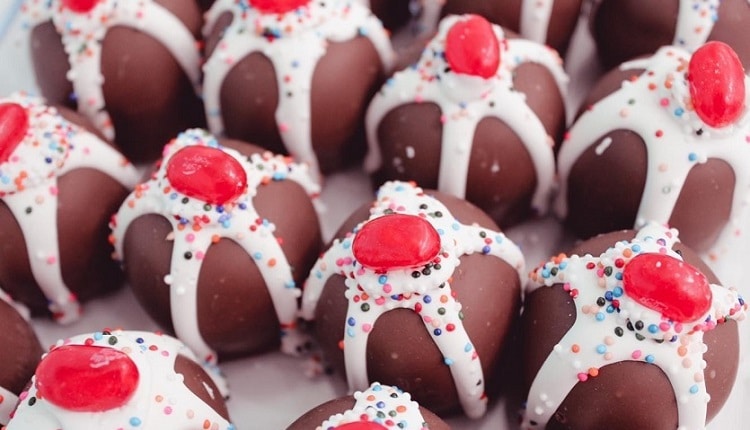 For those with an insatiable sweet tooth, a stop at the Cream & Sugar Sweet Shoppe for ice cream, treats and homemade sweets is a must! From chocolate truffles and gummy bears to Sunkist floats and banana splits, the options are virtually endless. Visit the Tower Shops at Mountain Mile in Pigeon Forge and you'll soon figure out it's where all your favorite sweets and treats can be found!
Mad Dog's Creamery
Get the scoop on the best selection of sweet treats at Mad Dog's Creamery. From hand-dipped ice cream cones, floats, banana splits and sundaes to the best handmade milkshakes you'll find anywhere in Pigeon Forge, it's your one-stop sweet shop. Try their new funnel cakes, decorate the chalk wall and make sure to grab an order of Mad Dog's famous donuts before you leave. Mad Dog's is also proud to offer dog lovers a mouth-watering treat for their four-legged canine friends.
Old Mill Creamery
Another popular ice cream shop in Pigeon Forge is the Old Mill Creamery. Step into this classic-styled ice cream parlor for a mix of traditional ice cream flavors that can be scooped into sugar cones or dishes or try one of their delicious sundaes or shakes. The ingredients used at Old Mill Creamery incorporate local farm-fresh ingredients from Lafayette Farm, grains from The Old Mill, homemade candies from the Old Mill Candy Kitchen and spirits from the Old Forge Distillery. They also offer homemade desserts and ice cream sandwiches. Cure your sweet tooth the Pigeon Forge way at the Old Mill Creamery!
Curl De La Creme – Ice Cream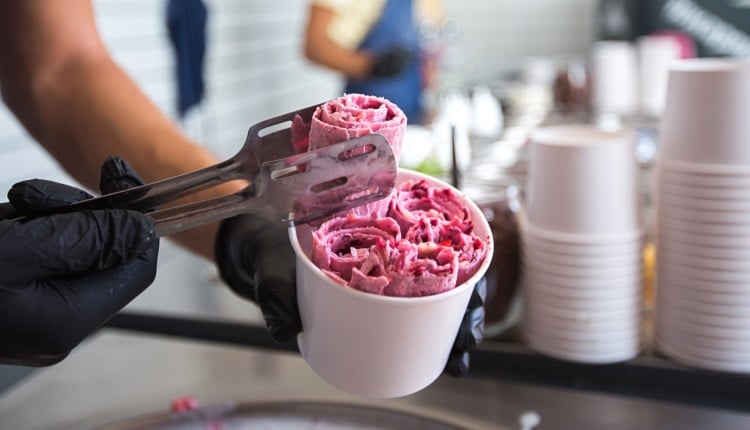 Curl De La Creme- Ice Cream is a unique shop that serves rolled ice cream made right before your eyes. Watch as fresh cream, along with your desired mix-ins, are poured onto a frozen pan and transformed into delectable ice cream rolls. Then choose a combination of toppings to add to the top of the ice cream rolls. It's a fun, unique and delicious treat everyone will love.
The Island Creamery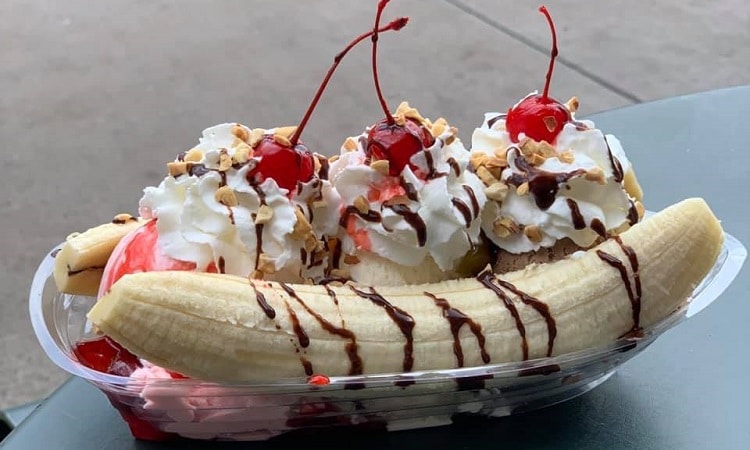 The Island Creamery is another tasty ice cream shop in Pigeon Forge that serves a variety of ice cream, smoothies and coffee from all around the world. Choose from a huge selection of homemade ice cream flavors to fill your chocolate hand-dipped waffle cone. Or try homemade goodies such as cookies and other gourmet treats. The Island Creamery is located at The Island in Pigeon Forge, so you can pick out a special treat to enjoy while you watch the Island Show Fountains that perform every half hour on the hour.
sweetFrog
Looking for an alternative to ice cream that is just as delicious? sweetFrog offers one of the best frozen yogurt experiences around. Choose from dozens of flavors of soft-serve premium frozen yogurt then pile on your choice of toppings. The toppings bar at sweetFrog is stocked fresh each day with the best ingredients. From sauces and sprinkles to fruits, cookies and more, you're in for a treat when you stop at sweetFrog!
Make your next trip to the Smoky Mountains even sweeter with a stop at one of these ice cream shops in Pigeon Forge. Explore even more great restaurants and eateries throughout Pigeon Forge to try on your next visit.