Best Places to Play Mini-Golf in Pigeon Forge
One of the most popular pastimes for our visitors in Pigeon Forge is mini-golf. Kids of all ages enjoy putting their way through uniquely designed courses. From fun candy-themed courses to courses filled with magical creatures, you can bet there will never be a dull moment during your vacation with so many exciting places to play mini-golf in Pigeon Forge. Here are a few of our favorites: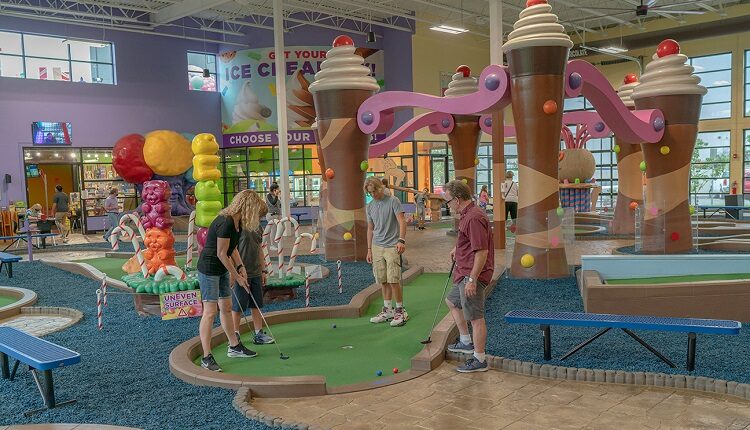 Crave Golf Club was ranked one of the top mini-golf courses in the country. You'll find both a 19-hole indoor course and a 19-hole rooftop course. Make your game more fun by spinning the disc located at the beginning of each hole and follow the instructions. Collect 19 candies or ice creams and you can exchange your scorecard for a prize!
In addition to indoor and outdoor mini-golf courses, Crave Golf Club also offers a mini bowling alley, two escape rooms and a candy shop. The candy shop offers a great variety of sweet treats, as well as delicious soft-serve ice cream and milkshakes. For those that have a sweet tooth, this fun candy-themed course is for you!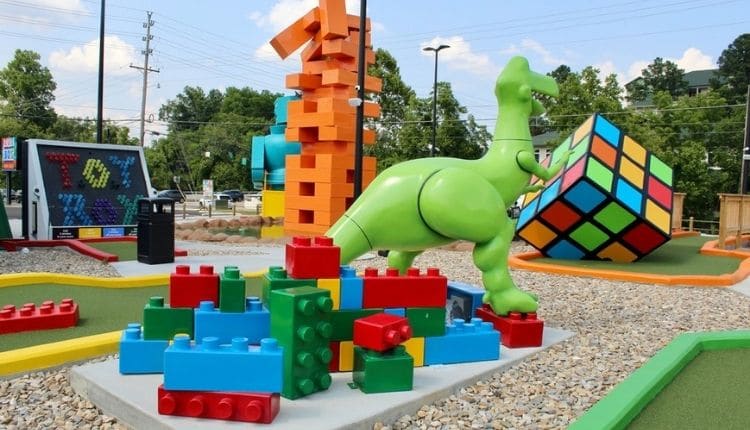 Bring the family to the world's first toy-themed mini golf attraction! Toy Box Mini Golf features an 18-hole toy-themed mini golf course where all your favorite childhood toys are scaled to epic proportions. The gigantic toys also offer amazing photo opportunities for all ages.
After your round of golf, test your skills and see if you can conquer the Laser Maze, make a stop at the toy store or grab a sweet treat at the Candy Shop!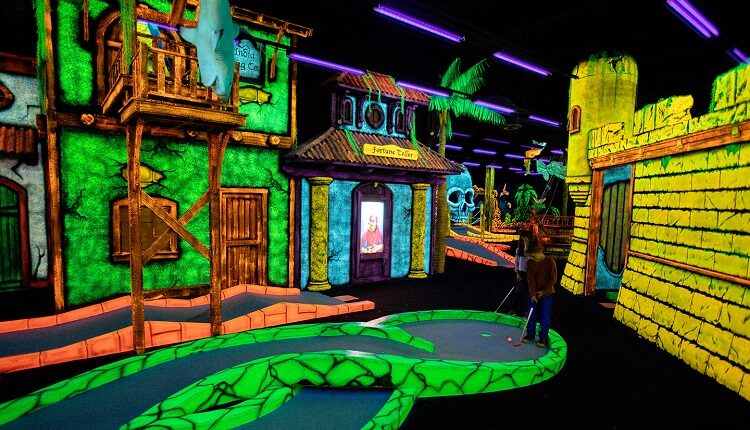 Plan a visit to the Holy Grail of magical fun, MagiQuest in Pigeon Forge. MagiQuest is home to four great attractions including an interactive treasure game hunt where visitors advance through quests and adventures to become a Master Magi. Next, check out the black-light mini-golf course, arcade room with lots of great games and prizes or a mirror maze adventure.
Pirate Golf at MagiQuest is a black-light 18-hole mini-golf course set in a Caribbean pirate village. Be on the lookout for hidden treasure as you putt your way through the village and across the pirate ship. On the 18th hole, putters who hit a hole-in-one will be serenaded by Blackbeard and his pirate friends. With such an array of fun things to do at MagiQuest, you're sure to find something for everyone!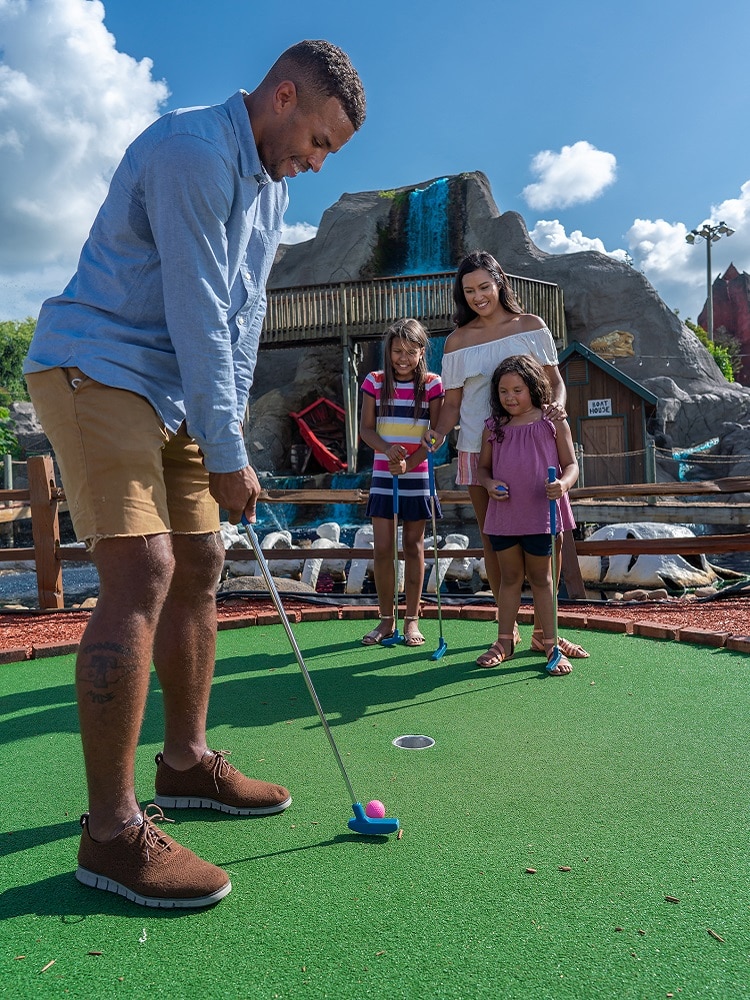 Join Professor Hacker on his expedition in search of gold and diamonds at Lost Treasure Golf in Pigeon Forge. Board the mining train that takes you to the top of the mountain to begin your game of mini-golf. Play one or both 18-hole courses where you'll putt your way through caves, waterfalls, a pirate ship and a volcano.
For those who love fantasy and adventure, Fantasy Golf is the perfect choice. Located along the Parkway in Pigeon Forge, Fantasy Golf features two 18-hole miniature golf courses that are sure to test your putting skills. Surrounded by fantasy animals, castles and more, you'll also find plenty of photo opportunities as you putt your way around these courses.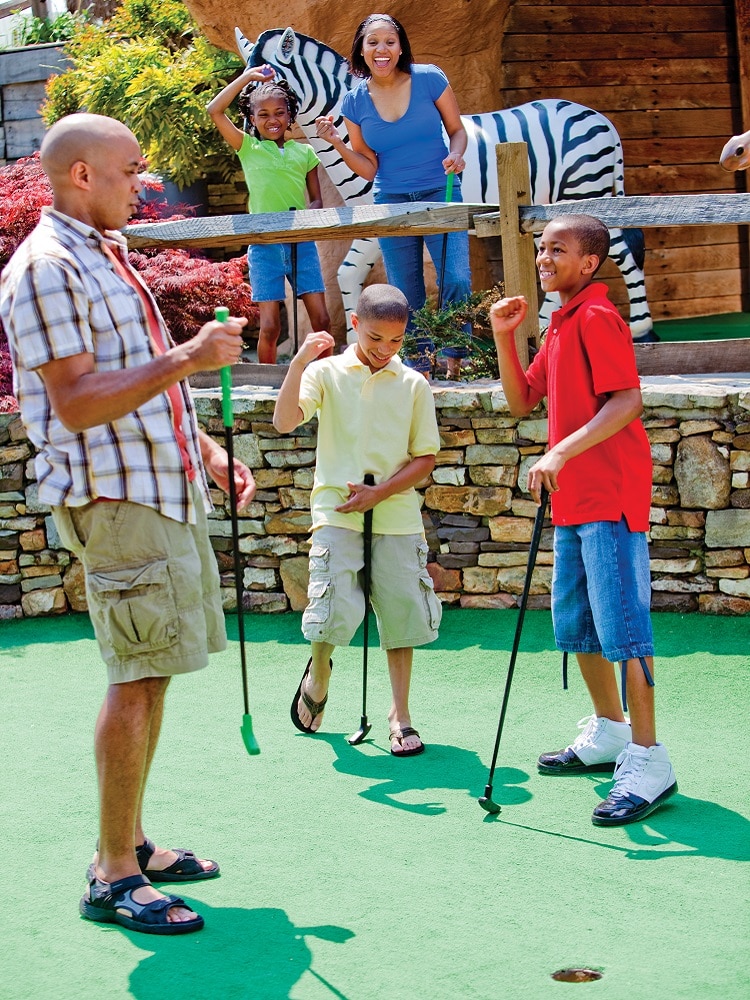 The Track in Pigeon Forge is a family fun park featuring four go-kart tracks, mini golf, blaster boats, bumper cars, kid's rides, the high-flying SkyFlyer and an arcade. Golfers of all ages will enjoy hitting the greens at Surfin' Safari Golf. This putt-putt course features a variety of jungle animals, tunnels and waterfalls throughout.
Once you've finished your game of mini-golf, you'll find plenty more things to do throughout the park. Ride the bumper cars, cool off in the blaster boats or feel the thrills of skydiving on the SkyFlyer. Head for Kids Country and explore even more rides including the carousel, kiddie carts, ferris wheel, red baron airplanes, the train, spin tops and more.

Opening summer 2023! Embark on an incredible journey that will take you to the deepest depths of the sea and into the clouds above Mermaid Bay. Your path will be full of playful friends and foes as you play through this immersive mini golf experience. Stay tuned for an official opening date for this new attraction located at: 2420 Parkway, Pigeon Forge, TN.
Enjoy a fun-filled afternoon of mini-golf in Pigeon Forge during your family vacation. It's a great way to spend time together!
Pigeon Forge is home to lots of great attractions and things to do with the family, both indoors and out. For action-packed family fun, there's no place better than Pigeon Forge. Come discover all that the Smoky Mountains have to offer and make some memories of your own!