Cupcakes, Pigeon Forge's Sweet Treats!
When we arrived this summer, we were super excited to hear that Pigeon Forge had 3 new cupcake shops! I for one do not turn down many sweet treats and the little divas love to watch shows like Cupcake Wars and Cake Boss on TV. So the excitement of the days to come filled us. Dad, on the other hand, does not usually indulge in sugary treats.  He is always a good sport though and allows us girls to have fun. We added each shop to our "to do" list for different days of the week. I made it into a little game for the little divas and decided that at the end of the week, after trying them all that I would make them tell us the award that they chose for each place.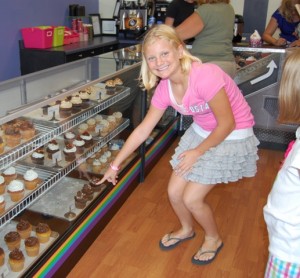 Nom Nom's Cupcake Factory was our first stop. It was the perfect snack stop on that particular day as we were already at Walden's Landing shopping and checking out The Tomb. The first thing the little divas noticed when we walked in was the 3 display cases filled with 20+ varieties of cupcakes. Obviously, it took them both some time to scan the flavors and choose just the right one to try. Peanut is a chocolate lover and chose Chocolate Mint. She savored every last bite of her cupcake. Jellybean had a Snickers one, I picked Strawberries and Cream, and dad tried something with coconut. The girls gave Nom Nom's the award for best variety!
The next day we made a stop at Gigi's Cupcakes. Their cupcakes are beautifully decorated and each one has about 3-4 inches of icing on it which it great for icing lovers like me. They were having a special that particular day, "Buy 3 get 1 free," which worked out perfectly for our little family. Their cupcakes had great names, like Hunka Chunka Banana Love. We just had to try it, along with Wedding Cake, Lemon Delight, and Cinnamon Roll.  It would be hard to pick our favorite flavor because they were all delicious. The sticker on their to-go box said "You may become unexpectedly popular when seen with this box!" Our family totally agreed and the girls gave them the award for the prettiest cupcakes.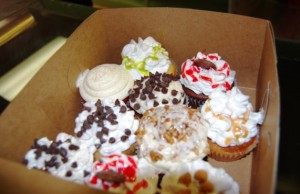 Our final cupcake stop was, AnnOlivia's, it's the newest of the three shops. They are known for their glittered cupcakes. The staff was super friendly and there's about 10 different flavors offered each day. We were feeling extra generous that particular day and got one of almost every kind to share with some great friends. Some of our favorites were Chocolate Chip Cookie Dough, Chocolate Covered Strawberry, and Italian Creme. We had heard that the Maple Bacon cupcake was good, but it was not on the rotation for the day. Guess we will have to try that one on our next visit! The little divas decided that they would give AnnOlivia's the award for best taste.
A fun week of indulging in the yumminess of cupcakes was added to our vacation memories!