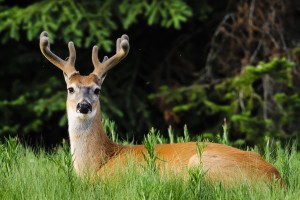 Have you ever seen a deer in Cades Cove? Chances are if you've ever been there you've likely spotted a white-tailed deer. The best time to look for deer is usually in autumn when bucks are out and about fighting for the right to mate, but seeing deer in summer might be just as fulfilling.
White-tailed deer change their appearance annually. In the late summer months most of them have shiny reddish coats. The males have antlers that are covered with "velvet". The velvet is a type of skin which provides nutrients to the antlers to promote their growth. Eventually, bucks will shed the velvet to reveal the familiar-looking white antlers.
After the mating season is over, the antlers will break off at the base and a new (typically fuller) pair of antlers will grow.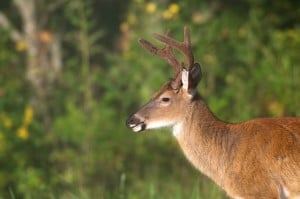 In Cades Cove deer typically give birth in late June, meaning that most fawns are nearly two months of age at this point. Fawns are noted for the small white dots scattered on their coat. This camouflage serves as their only real defense against would-be predators. If you're fortunate, you just might be able to catch a glimpse of a doe and fawn on your next visit!