Dog-friendly Things to Do in Pigeon Forge
Let's be honest, our pets steal our hearts. When we are away from them, it seems like a piece of the family is missing. Good news is, they don't have to be left out! Dogs can have fun in Pigeon Forge too.
Pigeon Forge is a dog-friendly destination, offering plenty of places for you and your furry friend to explore and have fun. From pet-friendly lodging to restaurants to things to do, there are many places to take your dog so that they too can be part of the family vacation memories.
Here are some of the dog-friendly activities that are available in Pigeon Forge so you and your furry friend are sure to have a pawsitively wonderful vacation!
Visit a dog-friendly park
City parks in Pigeon Forge are great places to throw around a frisbee or play fetch with your pet. Patriot Park is located right by the Old Mill and has a ½ mile loop trail that runs along the river. Along the path are flags from all 50 states and other memorials for the veterans of Pigeon Forge. In the center of the loop is a large grassy area, perfect for playing fetch! For some nice scenery, you can travel the Riverwalk Trail from the Old Mill area all the way to The Island in Pigeon Forge. Just make sure to clean up any mess that is left behind by your pet.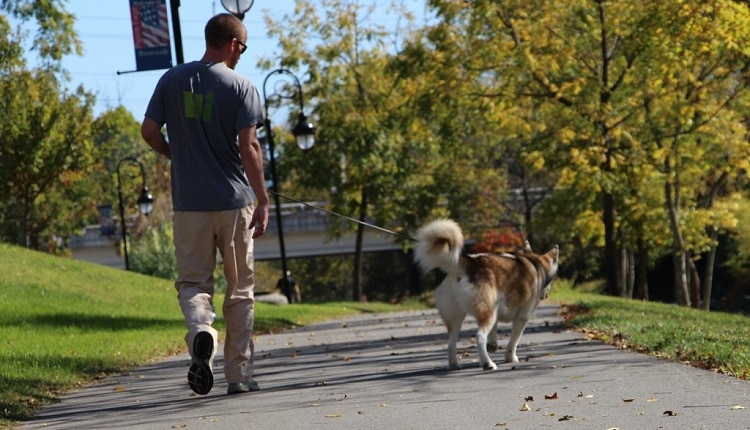 Wear Farm City Park is another dog-friendly park in Pigeon Forge with a few trails and plenty of playground space for the kids and pets. This community park also has picnic shelters, sports fields, restrooms and ample parking.
Go for a scenic hike or drive in the Smokies
Pigeon Forge is situated in the foothills of the Great Smoky Mountains of East Tennessee. Whether you're enjoying a spring hike amidst the blooming wildflowers or taking a scenic drive to view the fall foliage, Great Smoky Mountains National Park is a great place to visit when traveling with your pet.
Leashed dogs are allowed in campgrounds, picnic areas and along roads. The park also has two specified pet-friendly hiking trails that you'll want to check out. The Gatlinburg Trail begins at Sugarlands Visitors Center and the Oconaluftee River Trail begins at the Oconaluftee Visitor Center. Along the way, enjoy taking in the fresh mountain air and magnificent views of the river and lush scenery that extend as far as the eye can see.
*Parking passes are now required in Great Smoky Mountains National Park for visitors parking for more than 15 minutes. Learn more about the Park it Forward program.
**Learn more about pet rules and policies at Great Smoky Mountains National Park.
Another option for exploring Great Smoky Mountains National Park is on a scenic drive. You and your pet can sit back, relax and enjoy the mountain scenery and historic sites as you wind your way through the Smokies.
Spend a day at Dollywood
While dogs are not allowed inside the park, travelers to Pigeon Forge can leave their pets at Dollywood's on-premises dog kennel, Doggywood. They will house your dog during park hours for a small fee so that you can enjoy a day of fun with the family. Doggywood offers spacious and cozy Kennel Runs, and even a few Cottages for dogs that need a little more privacy. Space is limited, so reservations are highly recommended. Water is provided but make sure to bring along some dog food.
Dollywood is a must-do while in Pigeon Forge, and you can be sure that while you enjoy your time in the park, your pet will enjoy its time at Doggywood!
Cruise the Parkway in style
ExoRent UTV and Dune Buggy Rentals offer a fun, dog-friendly way to explore Pigeon Forge and the Smoky Mountains. Rent a UTV or dune buggy for an hour or two, or a whole day. The vehicles are street-legal and offer a unique and exciting way to cruise the Parkway or visit places like Cades Cove or Clingmans Dome. Just remember that renters are responsible for their pet's safety, as well as any damage incurred to the vehicle by the pet.
Enjoy music, food and fun at The Island
Dogs are welcomed at The Island in Pigeon Forge, as long as they are behaved and on a leash. Take a seat around the show fountains to watch the amazing water show that synchronizes with music. Speaking of music, Ole Smoky Moonshine features live bluegrass daily at their outdoor stage, so grab a rocking chair and sit back and enjoy the sounds of the south.
Getting hungry? There are food kiosks scattered throughout the Island where you can grab something quick and get back to the action. It is up to the individual shops and restaurants as to whether dogs are allowed inside the businesses, so be sure to check first before bringing your pet inside.
Go shopping with your pup
There are several shops and stores in Pigeon Forge that are dog-friendly.
The Island Trading Post, a pet-friendly store in Pigeon Forge, sells clothing, home decor, locally made products, gifts, souvenirs and more. The Shops at Lumberjack Square are a dog-friendly outdoor shopping area in Pigeon Forge. The area is home to a variety of shops, restaurants and Paula Deen's Lumberjack Feud Show & Adventure Park. Pets are permitted in outdoor areas.
Three Bears General Store is a pet-friendly shop in Pigeon Forge that is filled with unique souvenirs and handcrafted goods. Leashed dogs are welcome inside as long as they are well-behaved. Moon Pie General Store & Book Warehouse is another pet-friendly place to shop in Pigeon Forge. Leashed and well-behaved dogs are welcomed inside to browse a wide selection of souvenirs and gifts.
Tour local wineries and distilleries
East Tennessee is home to a variety of wineries, distilleries and breweries that also welcome pets.
Yee-Haw Brewing is a fun pet-friendly spot located at The Island in Pigeon Forge. The brewery welcomes leashed dogs to hang outside with their owners while sampling unique brews from the rotating draft list. Old Forge Distillery invites pet owners to bring their dog along while enjoying a tasty selection of distillery samples. The distillery serves mixed drinks, in addition to other tasty options. Grab some of your favorites to take home with you from the attached store. Pets must be on a leash.
The Ole Smoky Moonshine Barn, also located at The Island in Pigeon Forge, features a distillery, tasting bar and retail store. The distillery jars, labels and sells moonshine on site, and is dog and family friendly. Learn about the history and lore of moonshining while sampling some of their finest flavors. There is also an outdoor stage where you can have a seat, take a sip and enjoy the live bluegrass music.
Find a great spot to dine with your pet
You can take your furry companion out for a meal in Pigeon Forge thanks to the many dog-friendly restaurants in the area. Whether you're looking for a casual bite, a special occasion dinner, or something in between, you can find a great spot to dine with your pet.
Many of these restaurants have outdoor seating, so you can get some fresh air and enjoy the beautiful Tennessee scenery while you eat. Plus, you can rest assured knowing your pet is welcome and well taken care of.
Enjoy dog-friendly accommodations
When it's time to turn in after a fun-filled day with the entire family, you can choose between one of the many lodging options in town that offer pet-friendly rooms. From rustic cabins to hotels with doggy amenities to campgrounds offering plenty of outdoor space, you're sure to find a great place to stay that will make your family and pet happy. Be sure to check with your chosen accommodation ahead of time to ensure they have pet-friendly policies.
Our Travel Planner indicates pet-friendly hotels, cabins and campgrounds with a circle under the icon that looks like a dog's paw. You can request a Pigeon Forge Travel Planner by mail or use this link to view the online version and have it handy on your phone everywhere you go.
Overall, Pigeon Forge offers many pet-friendly options for you and your furry friend to enjoy. With so much to explore and discover, Pigeon Forge is the perfect place for a pet-friendly vacation.