Dollywood Fun…Even in the Rain!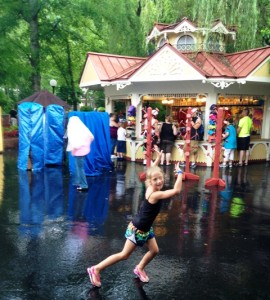 We were all dressed and prepared to get wet on the water rides at Dollywood this summer. I was so excited that for once we planned it out and wore clothes that we could get wet in and then we each took a change of clothes for afterwards. First thing upon entering the park, we rented a locker to store our belongings in and then took off for the water rides. Mountain Slidewinder was close to our locker so we started there. The wooded, mountain side setting was awesome and we all 4 got to ride in a toboggan and get wet together. However, the real water started just as we exited the ride…RAIN!  This rain continued and continued and continued. Due to lightning in the area, the rides got shut down.
We decided to go check out a show in hopes that afterwards the rides would be opened again. However, that wish didn't come true. The rain was actually getting heavier. Determined to make the most of our day, we regrouped and made some new plans. We all wanted to stay and take in the great indoor activities that we sometimes miss because we get caught up in the rides.
There actually is a lot to see and do even on a rainy day! Dollywood has about 10 shows that run daily so just taking in all the shows can fill up one's day. The shows all exhibit quality entertainment and are great for all ages. Peanut and Jellybean love all of the singing and dancing and especially love the shows that have clips of Dolly herself in them.
Can't forget about food on a Dollywood visit either…there's plenty of it! There are lots of snack places along the walkways from homemade potato chips to kettlecorn and pork rinds. However, when it is time for a meal, you won't leave hungry from Aunt Granny's Buffet or Miss Lillian's Chicken House. Your sweet-tooth won't get left out either. Dollywood's Sweet Shoppe has candies of all varieties and they are usually making fresh saltwater taffy to sample. Spotlight Bakery has pastries, pies, and baked goods of all sorts. We enjoyed some fresh made cinnamon bread at the Grist Mill while we stood around and watched the bakers rolling the dough and lathering it in butter and cinnamon and sugar.
There are crafters galore too. We love to stop and watch the glass blower and the blacksmith, along with the wood carvers and leathersmiths. They sure know their trade and make it look so easy. So many unique items are available that are perfect for gift giving. We usually pick up some personalized items as souvenirs for our visit.
Touring Dolly's former tour bus as well as seeing some of her old costumes and wigs in the Chasing Rainbows Museum is a must see stop too for any Dolly fan. All of the pink and bling is definitely a hit with our little divas!  We also bared a little rain to check out the Eagle Mountain Sanctuary and see the amazing birds of prey. If you are an American, you can't help but love seeing our national bird, the bald eagle.
Peanut even made time to do a little dancing in the rain. Needless to say, we enjoyed our day despite the unending rain that even cancelled the end of day fireworks show that we were looking forward to. The best part of our day was that they gave us a Rain Check to come back another day so that we could do the rides and see the fireworks!