Best Family Photo Spots in Pigeon Forge
One of the best parts of a Smoky Mountain vacation is capturing fun family photos and then sharing them with family and friends. So where are the best spots in Pigeon Forge to capture those Instagram worthy photos?
Pigeon Forge is nestled at the foothills of the Smoky Mountains, surrounded by incredible mountain views as far as the eye can see, making it one of the most picture-perfect destinations in the nation. From picturesque locations in Great Smoky Mountains National Park to iconic landmarks to fun and quirky photo spots at popular attractions, here are the most instagrammable spots in Pigeon Forge for capturing those fun family memories during your vacation.
Be sure to tag your photos with #mypigeonforge and post them on your social media!
Historic Old Mill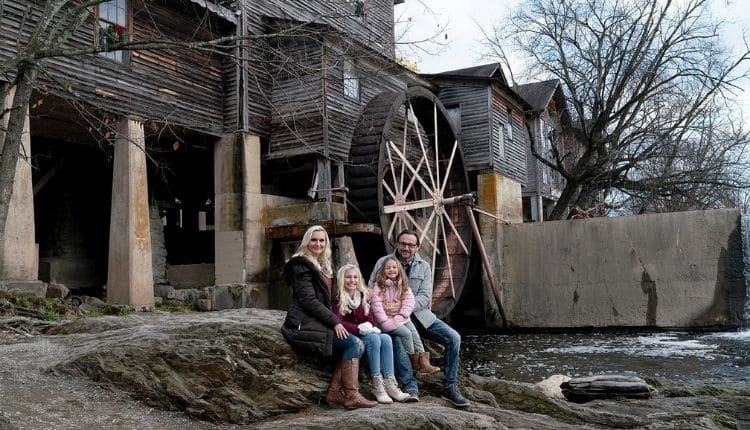 The Historic Old Mill, constructed in 1830, is Pigeon Forge's most photographed landmark. The gristmill is one of the oldest operating gristmills in the country and is still used to make freshly ground grains that are sold in the general store and both Old Mill restaurants. Look for the concrete set of stairs near the bridge that lead to the base of the mill and waterfall. You'll find plenty of rocks to climb or sit on for the perfect photo!
Where: 175 Old Mill Avenue
Bridge by Old Mill
The historic Old Mill District is nestled along the banks of the Little Pigeon River. There is a bridge nearby on Old Mill Avenue that is the perfect spot to capture a photo with the gristmill and the rushing waters from the Little Pigeon River in the background.
Where: 175 Old Mill Avenue
Great Smoky Mountains National Park
You'll find countless opportunities to capture incredible photos within Great Smoky Mountains National Park. Take your pick of scenic backdrops…mountains, waterfalls, streams, tree lines, a pioneer mountain town, and so many more. With over 800 square miles, the Smoky Mountains offer some of the best photo spots you'll find anywhere in East Tennessee.
Where: From Pigeon Forge, stay straight on US-441
Great Smoky Mountains National Park Sign
One of the most popular spots for a great group or family photo is by the iconic National Park Sign located at the entrance to Great Smoky Mountains National Park from the Parkway. Hundreds of families stop to get this Instagram-worthy picture every year to officially document their trip to the most visited national park in the U.S.
Where: From Pigeon Forge, stay straight on US-441
Waterfalls in Great Smoky Mountains National Park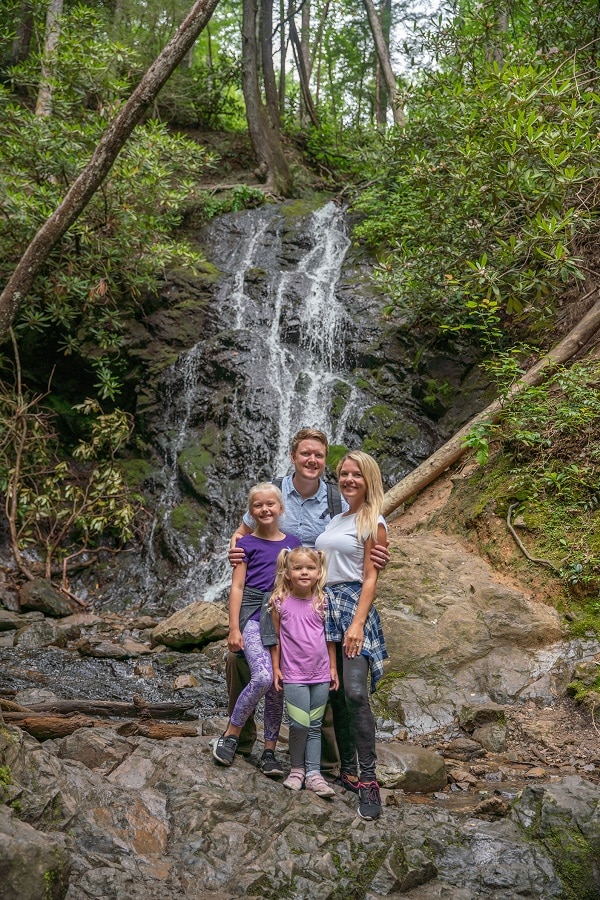 If you're looking for the picture-perfect spot to capture photos of the family, then these incredible waterfall hikes in Great Smoky Mountain National Park should be at the top of your list! Laurel Falls is an 80-foot-high waterfall divided into upper and lower sections by a footbridge. The bridge is a great spot to capture a unique family photo. Another beautiful waterfall hike is to Grotto Falls, where you can walk behind the cascading falls.
Where: various locations throughout Great Smoky Mountains National Park
Great Smoky Mountain Wheel at The Island
The Island in Pigeon Forge is home to lots of great shops, restaurants and attractions. One of its most popular attractions is the Great Smoky Mountain Wheel. You cannot miss this 200–foot high observation wheel that towers above The Island as you are driving along the Parkway! This iconic Pigeon Forge attraction offers the perfect backdrop for an incredible family photo. Or go for a ride on the wheel to get a bird's eye view of the city and capture some great pictures from above.
Where: 131 The Island Dr.
The Island Show Fountains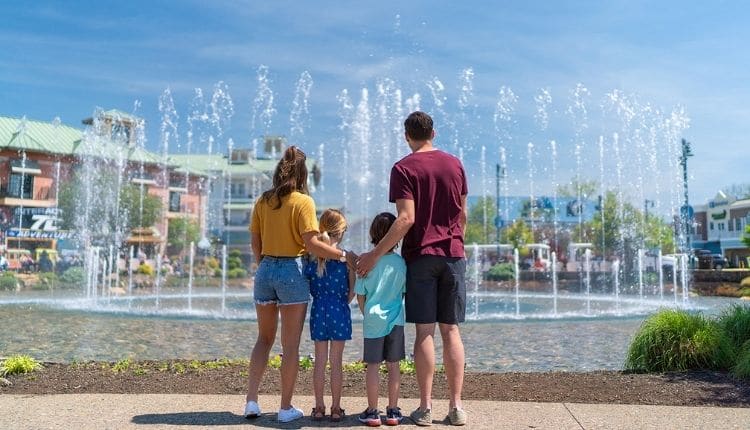 Another great family photo spot at The Island is the Island Show Fountains. The fountains perform year-round with choreographed music. Time it right to get a picture when the fountains are all spraying in the air. At night, the fountains light up for an even more incredible backdrop.
Where: 131 The Island Dr.
Hollywood Wax Museum
The Hollywood Wax Museum is probably one of the most interesting spots in Pigeon Forge to capture photos. The giant gorilla sits atop the Hollywood Wax Museum overlooking the Parkway. Take the elevator inside the museum for an up-close-and-personal shot with King Kong and a beautiful view of the Parkway. Inside, there are hundreds of super-realistic wax figures of all your favorite Hollywood stars. Grab a prop or strike your best pose for some great photos that are sure to impress your friends and family back home.
Where: 106 Showplace Blvd Unit A
TITANIC Museum Attraction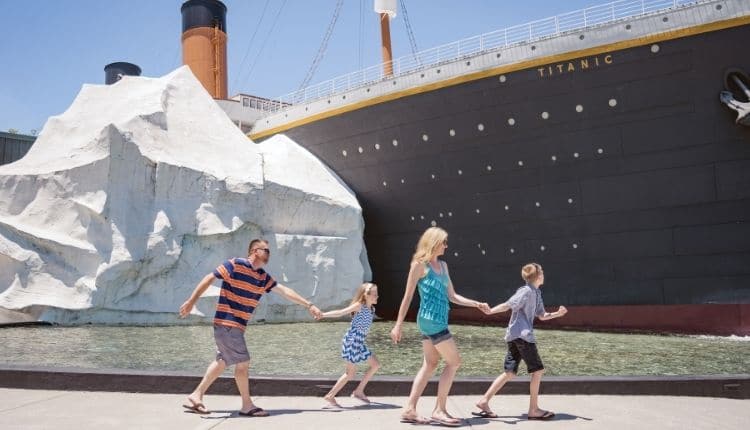 The TITANIC Museum Attraction is a life-size replica of the RMS Titanic that stands just off the Parkway. While the museum does not allow cameras inside, you can capture this great piece of history from many different views on the outside. Take pictures from the front of the ship with the artificial lake and replica of an iceberg, or from the parking lot side, as if you were preparing to board the ship for a voyage.
Where: 2134 Parkway
Incredible Christmas Place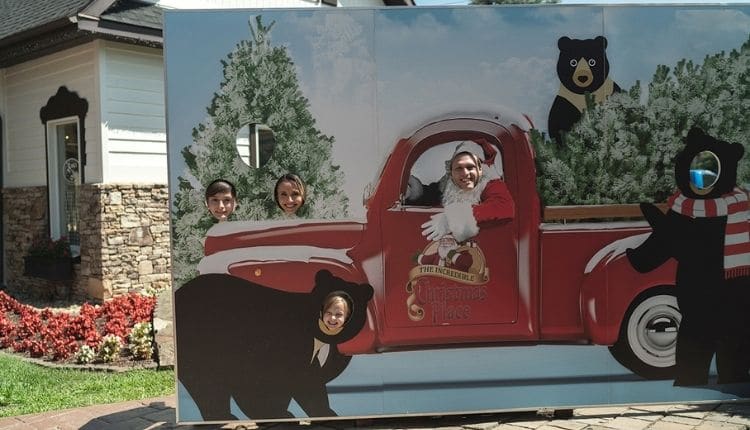 Get into the holiday spirit year-round at the Incredible Christmas Place. The beautifully designed Christmas trees and decorations that fill the store offer countless opportunities for capturing Insta-worthy photos. Outside the store, there's also a comical cutout picture prop with Santa driving an old pickup truck surrounded by snowy evergreens and a family of inquisitive black bears.
Where: 2470 Parkway
Dollywood
Dollywood is an iconic theme park in Pigeon Forge, known for its thrilling rides and attractions, world-class entertainment and delectable Southern fare. The park is open year-round and each season is celebrated with unique and festive décor and events that make for great photo-ops any time of year. Just as you enter the Dollywood park, there is a nice area with a Dollywood sign, along with another spot with a beautiful butterfly, one of Dolly's iconic symbols. Each area of Dollywood also has a theme like Country Fair, Wilderness Pass, Timber Canyon, and Jukebox Junction with plenty of scenic spots to stop and grab photos.
Where: 2700 Dollywood Parks Blvd
Dollywood Express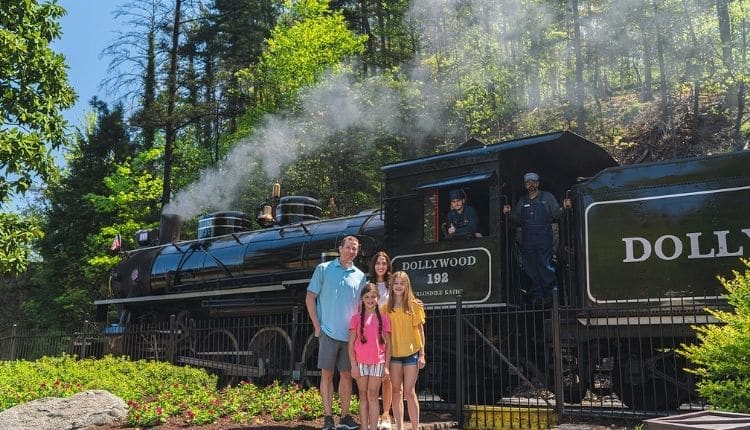 A popular photo spot for families within the Dollywood theme park is in front of the 110-ton coal-fired steam engine train known as the Dollywood Express. Capture a photo before climbing aboard the train for a five-mile ride through the foothills of the Great Smoky Mountains where you'll enjoy some of the most beautiful views nature has to offer.
Bonus spot: On your way to Dollywood, located near traffic light #8 on the Parkway, is a replica Dollywood Express train. Dolly Parton loves the city, and you will find her stamp throughout. The locomotive has been a popular photo op for families since the early 1960's. It's the next best thing to riding the real train!
Where: 2700 Dollywood Parks Blvd
Crave Golf Club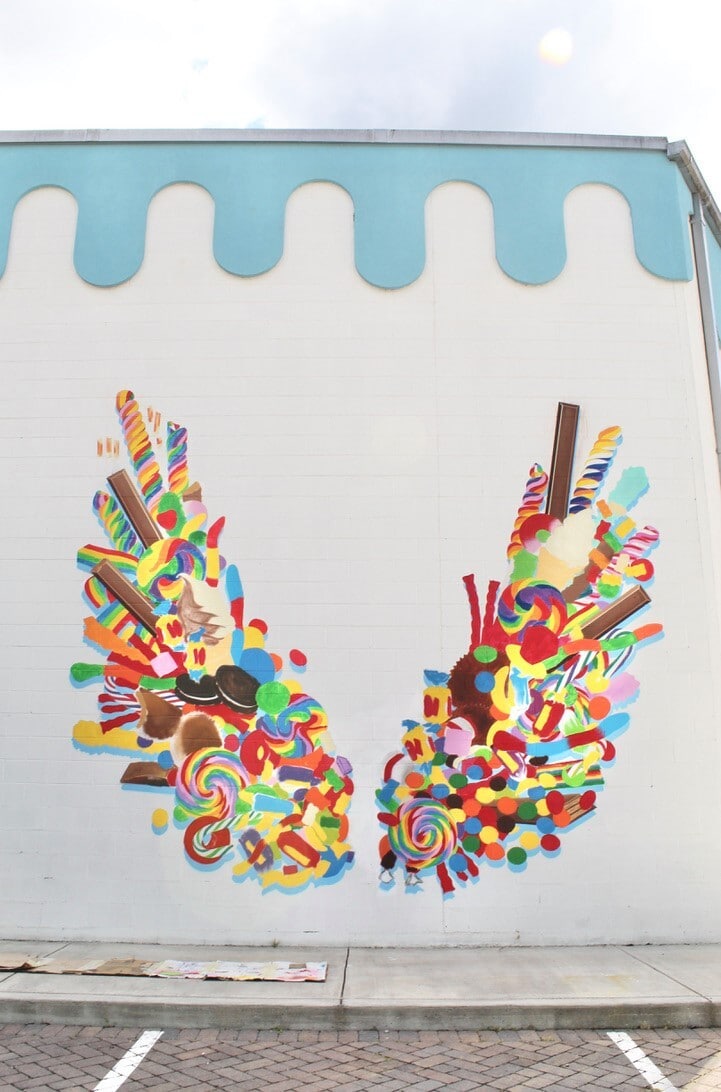 Photo credit: Crave Golf Club Twitter
Another great spot to take a family photo is at Crave Golf Club. Enjoy a little fun family competition on the indoor or outdoor mini-golf courses or try your hand at mini-bowling or the escape rooms. One of the newest additions at Crave Golf Club is the candy wall mural. Kids and adults both will love posing in front of these super sweet looking candy wings!
Where: 2925 Parkway
Three Bears General Store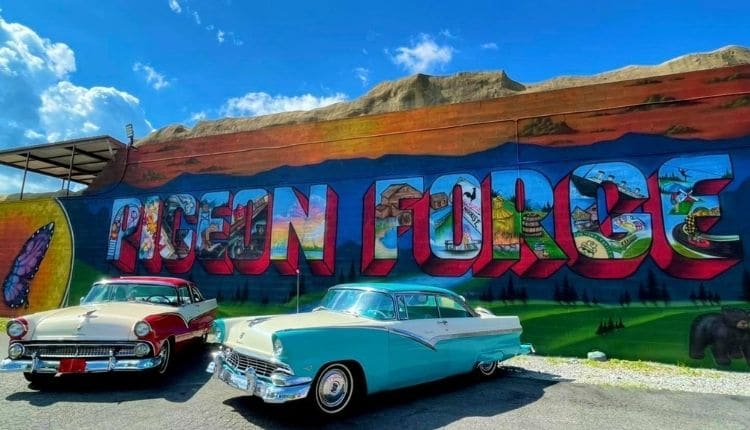 Photo credit: Three Bears General Store
A new wall mural you're sure to love in Pigeon Forge is located behind the Three Bears General Store. Stop in and pick out the perfect souvenirs from the general store to take home with you. Then make sure to grab a picture by this 'Pigeon Forge' themed mural before you head home!
Where: 2861 Parkway
Toy Box Mini Golf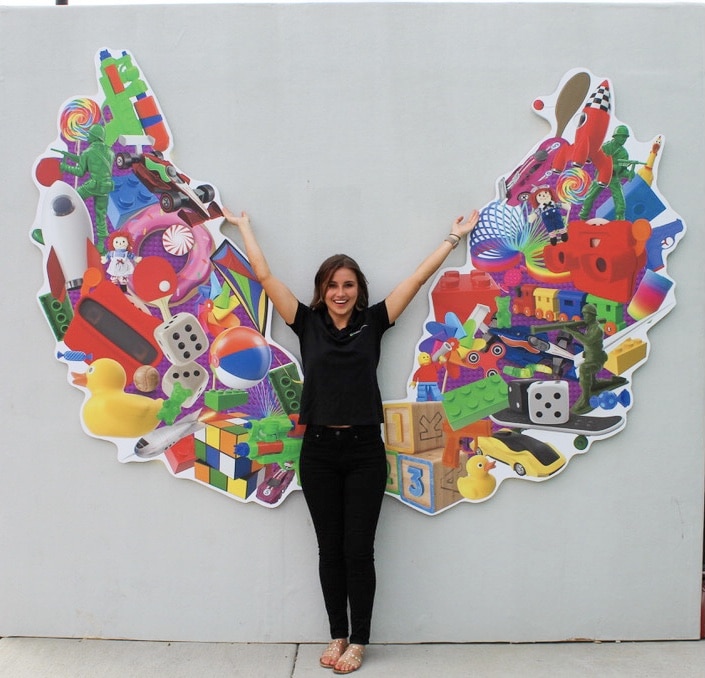 Photo credit: Toy Box Mini Golf Twitter
One of the newest attractions in Pigeon Forge, Toy Box Mini Golf, features a toy-themed mini-golf course, laser maze, toy store and an array of great photo ops. From the larger-than-life toys found throughout the mini golf course to the beautiful butterfly mural made up of pictures of childhood toys, there's something for every member of the family in this toy wonderland!
Where: 112 Dollywood Ln
Beyond the Lens
Beyond the Lens is a fun-filled family attraction in Pigeon Forge where you can explore the best of pop culture while enjoying an array of interactive games, intriguing exhibits and lots of great selfie opportunities. Search for Bigfoot and get your picture taken with this giant sasquatch when you find him. Blast off into space with Neil Armstrong on the first moon walk. Rock out with Elvis in front of a giant green screen. And there's plenty more fun photo-ops you won't find elsewhere!
Where: 2115 Parkway
Mama's Farmhouse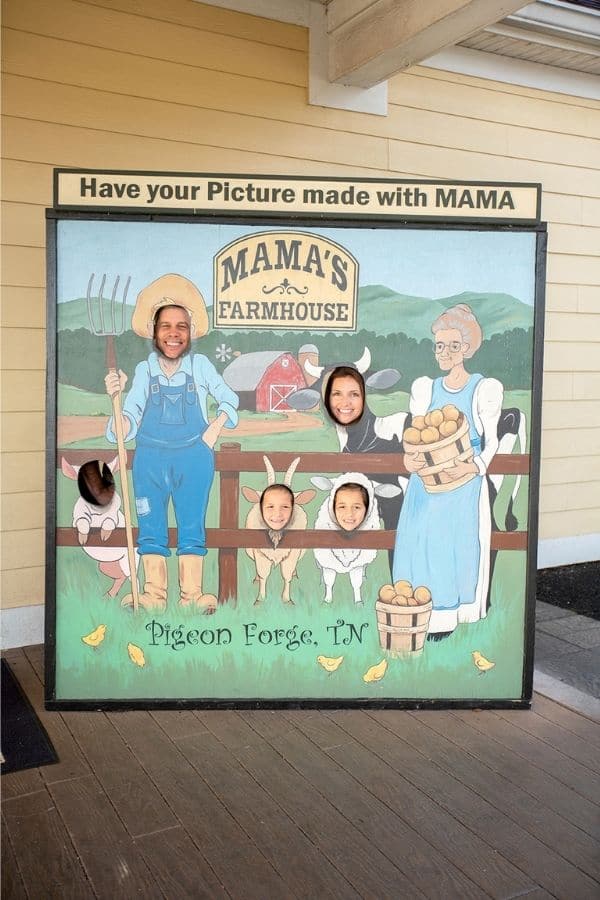 Another great place to grab a photograph with the family is at Mama's Farmhouse. Get your pictures taken with Mama in this adorable cutout prop scene of a farmhouse complete with all your typical barnyard animals. After you've captured a photo, head inside for some delicious home-cooked Southern fare for breakfast, lunch or dinner!
Where: 208 Pickel Street
Patriot Park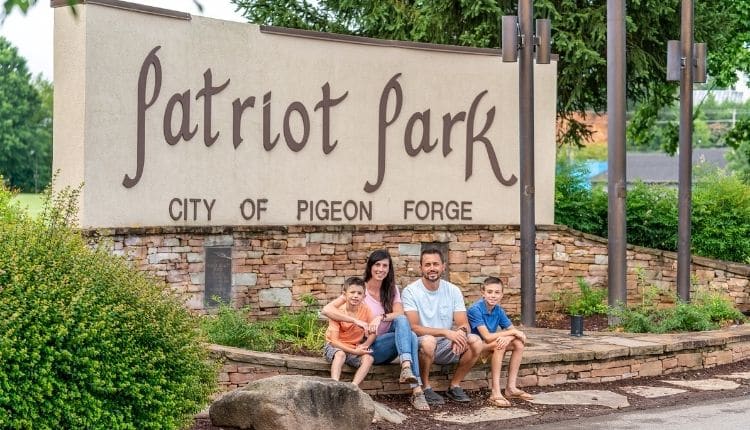 Patriot Park is a great spot for capturing family photos in the scenic outdoors in Pigeon Forge. Get in a little exercise and a lesson in American history. The park is home to a replica Liberty Bell and a Patriot Missile that was used in the first Gulf War. It's a great spot for a family picnic lunch, with plenty of open grassy areas and a picnic pavilion located along the river, near the park's gazebo. The Patriot Park sign is a popular spot for capturing a memorable family photo of your vacation.
Where: 186 Old Mill Avenue
Riverwalk Trail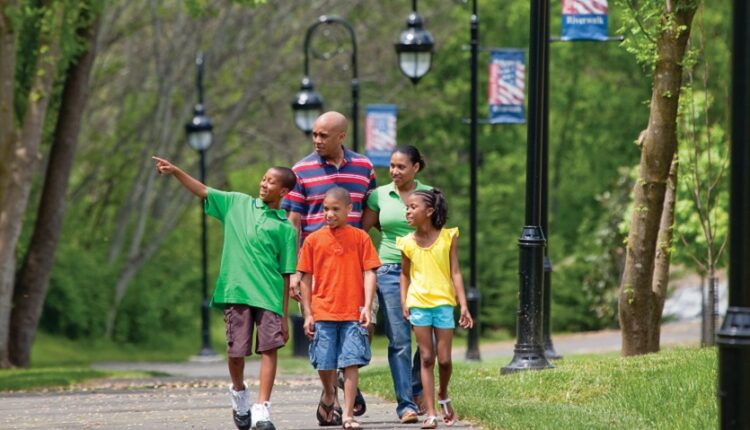 For even more scenic, outdoorsy spots to capture photos, try the Riverwalk Trail. Enter at Patriot Park and walk along the paved trail that takes you from Old Mill Avenue, past the LeConte Center, through The Island in Pigeon Forge, and all the way to the Pigeon Forge Community Center. The peaceful tree-lined greenway trail is lined with the flags of the United States, placed in the order they achieved statehood. The trail runs alongside the Little Pigeon River, where you're likely to see ducks walking or floating around.
Where: 186 Old Mill Avenue
Pigeon Forge Parkway during Spring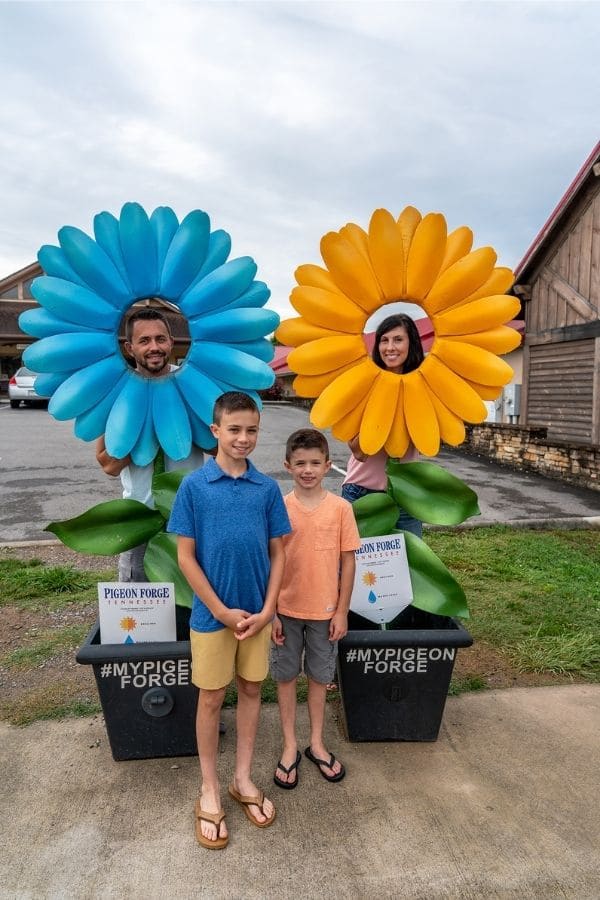 Spring is a beautiful time of year in Pigeon Forge. The trees begin to fill with green foliage and the spring wildflowers bloom in an array of brilliant colors. Spring also brings a special set of larger-than-life blooming flowers to Pigeon Forge. As you visit your favorite attractions, be on the lookout for Pigeon Forge's spring planters and other seasonal décor that are placed in various locations along the Parkway. These whimsical characters offer fun selfie and group photo opportunities throughout the spring months.
Where: various locations along the Parkway (view map)
Pigeon Forge Parkway during Fall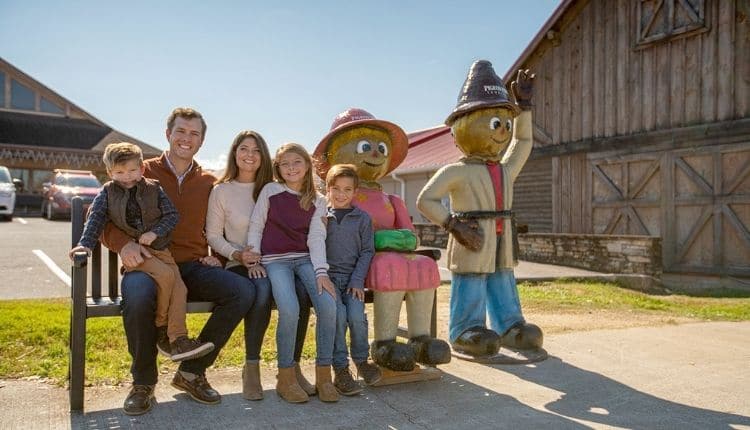 Another great time of year for a visit to Pigeon Forge is during the fall leaf-peeping season. The beautiful fall colors that adorn the tree lines are truly a sight to behold. And with the fall season comes an array of festive fall décor, complete with Pigeon Forge's fall scarecrow people that can be found in various locations along the Parkway. Make plans to take the family on a scarecrow scavenger hunt during the fall months to see how many you can spot!
Where: various locations along the Parkway (view map)
With all of these great photo spots in Pigeon Forge, you're sure to capture plenty of memories during your family vacation! So get those cameras ready!
We love seeing Pigeon Forge through your lens. Make sure to connect with us on Facebook, Twitter & Instagram and use #mypigeonforge to show us your vacation fun.