An Inside Look at Old Mill Square
Old Mill Square is one of the most historic areas in Pigeon Forge. Get an inside look at this timeless treasure and other traditions reminiscent of mountain life.
Located just off the Pigeon Forge Parkway at traffic light #7, Old Mill Square is a great family destination featuring unique shops and top-notch restaurants. Bordered by Patriot Park and the Little Pigeon River, the Old Mill provides a beautiful backdrop for family photos (and selfies), too!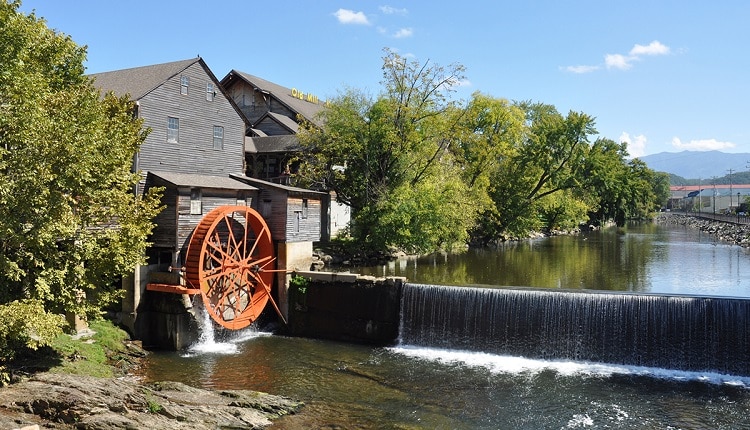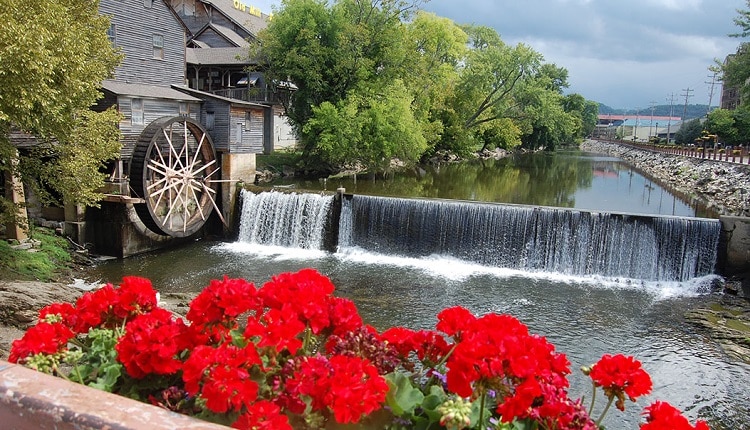 Discover all there is to see and do with this inside look at Old Mill Square.
Tour the Historic Old Mill
The Historic Old Mill is a fully-functioning, water-powered gristmill that was built in 1830. It's the only structure in Pigeon Forge to be listed on the National Register of Historic Places. Powered by the Little Pigeon River, the large rocks and wheels continue to grind down the grain just like it was done back in the pioneer days. The grain is then used in many of the tasty dishes served at the two Old Mill restaurants and in the distillery.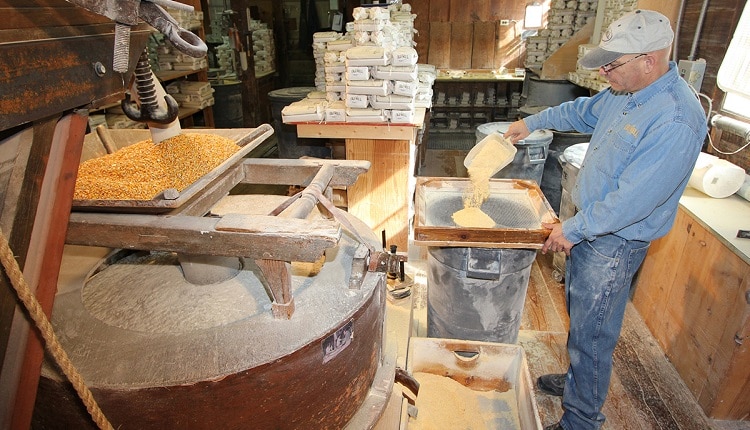 Delicious Dining Options at Old Mill Square
You'll find great dining options to choose from at Old Mill Square that are sure to satisfy any palette.
The Old Mill Restaurant is located adjacent to the Old Mill and serves classic southern dishes just like grandma used to make. Dine on classic family favorites such as country-fried steak, pot roast and homemade corn fritters. The restaurant is open for breakfast, lunch and dinner and whichever you choose, your taste buds will thank you!
Note: The Old Mill Restaurant is a very popular place to eat in Pigeon Forge, so please be prepared in the event there is a wait. You'll find plenty to explore around the square while you build up your appetite.
The Old Mill Pottery House Café & Grille is located across the street, overlooking the Little Pigeon River. The cafe is open for lunch and dinner. The quaint atmosphere paired with their homemade quiches and soups make for a great dining experience. During warmer months, dine outside by the fountain. And for those chillier months, the large stone fireplace offers a warm and welcome respite. Don't leave without trying some homemade pie or cake for dessert!
Unique Shops and Fun at Old Mill Square
From handmade pottery to spices to homemade candies, Old Mill Square offers plenty of great shopping options for the whole family. Watch artisan demonstrations and sample some of the sweetest goodies in the South.
Shop the Old Mill General Store for Smoky Mountain souvenirs and fresh ground grains from the Old Mill. You'll also find other tasty homemade goods like jams and jellies, salad dressings and more.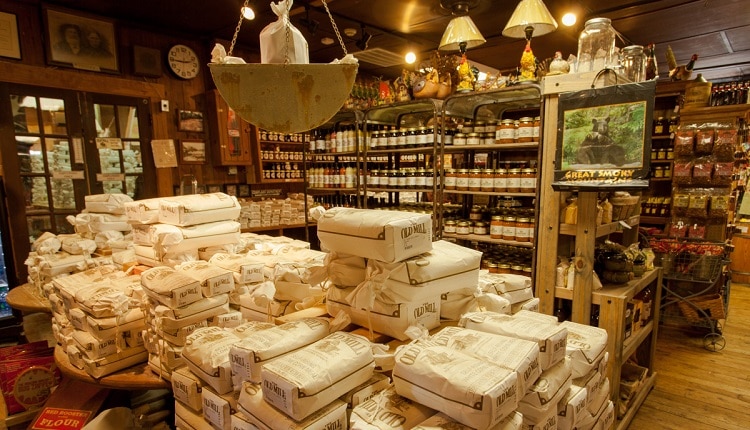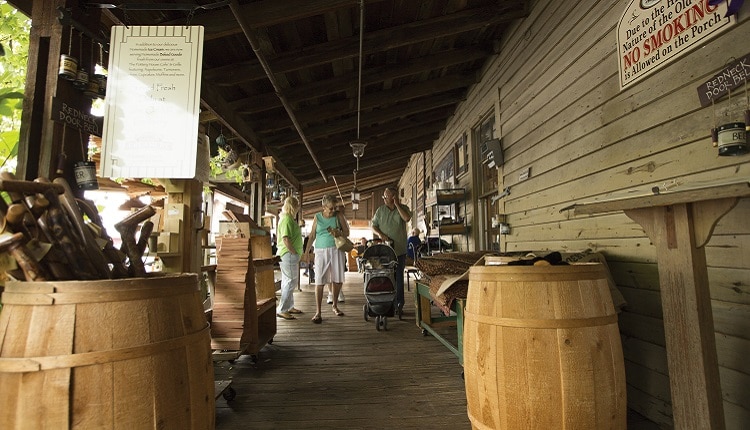 Old Mill Pigeon River Pottery offers unique, one-of- a-kind pottery pieces that are made on-site by in-house potters. The dishes are used at both the Old Mill Restaurant and Pottery House Café and Grill.
Visitors can watch as one of the potters delicately crafts a new piece. Then browse the beautiful selection of finished pottery pieces to take home with you or to give as gifts.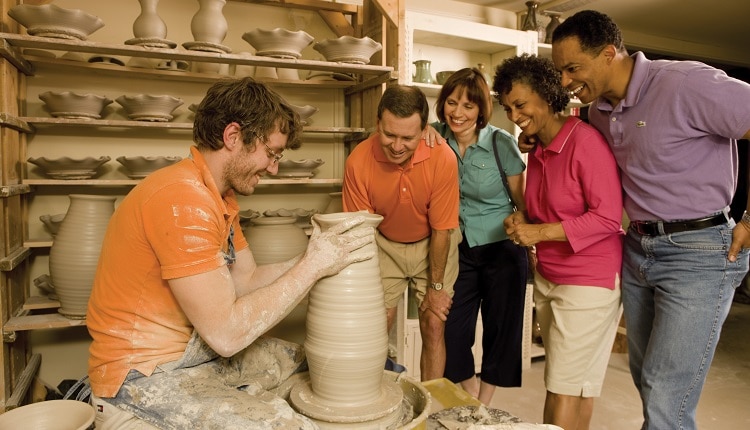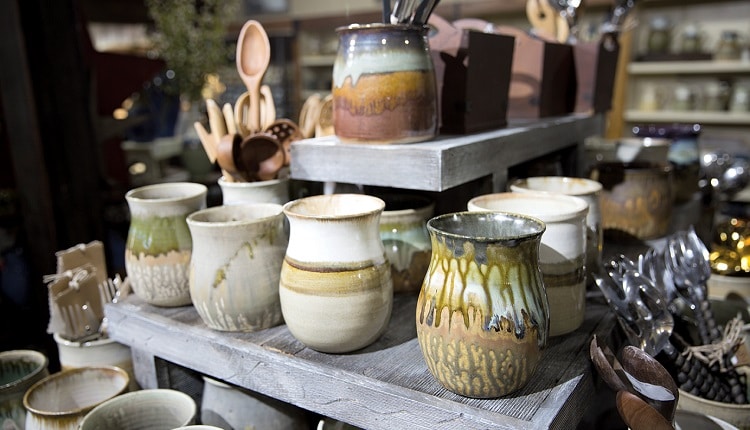 From famous creamy corn chowder to signature bread mixes to unique kitchen pieces, Old Mill Farmhouse Kitchen is the perfect place to grab items you will need for making your favorite Old Mill recipes at home.
Sassafras is a great place to find unique jewelry, handbags and other one-of-a-kind accessories.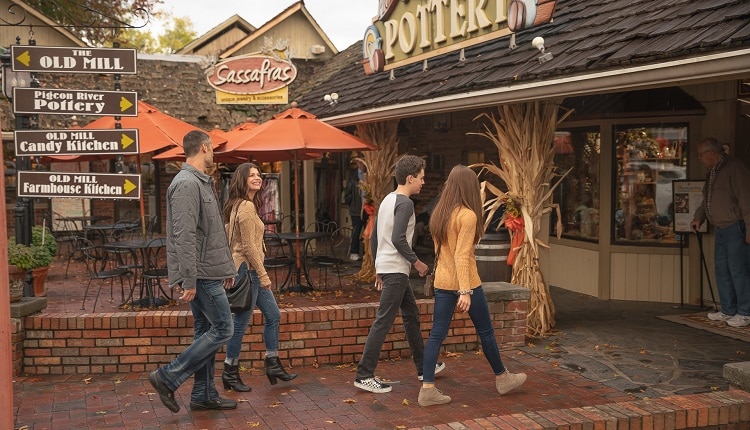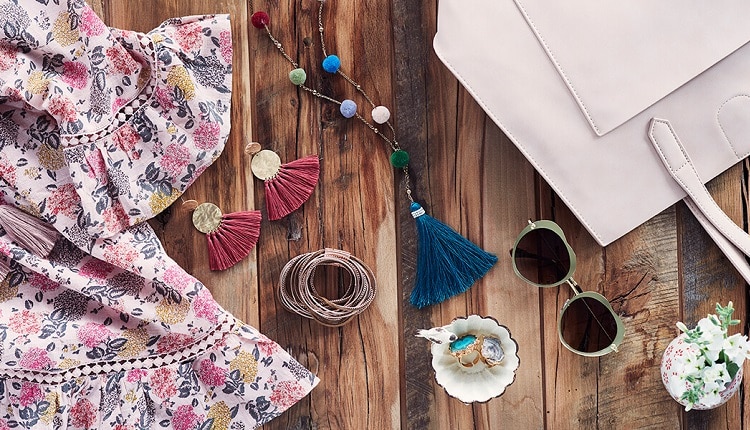 Sweet Treats…for the Kids
The Old Mill Creamery is the place to go for delicious ice cream treats and milkshakes. The creamery has their own signature flavors that are representative of the area. And they're always coming up with new flavors that are sure to satisfy any sweet tooth!
For over 75 years, the Old Mill Candy Kitchen has been whipping up homemade candies and treats like bear paws, taffy, fudge, caramel apples, and so much more. It is sweet tooth heaven!

And Treats…for the Adults
The Old Forge Distillery is a 100-year-old building where freshly ground grain is distilled in small batch copper column stills. It's the first Pigeon Forge moonshine distillery, named after the iron forge that once resided next to the Old Mill.
The distillery uses ground corn from the Old Mill, moonshine jugs made at Pigeon River Pottery and ingredients from both the Old Mill Restaurant and Old Mill Candy Kitchen. A tasting bar and gift shop are open to visitors.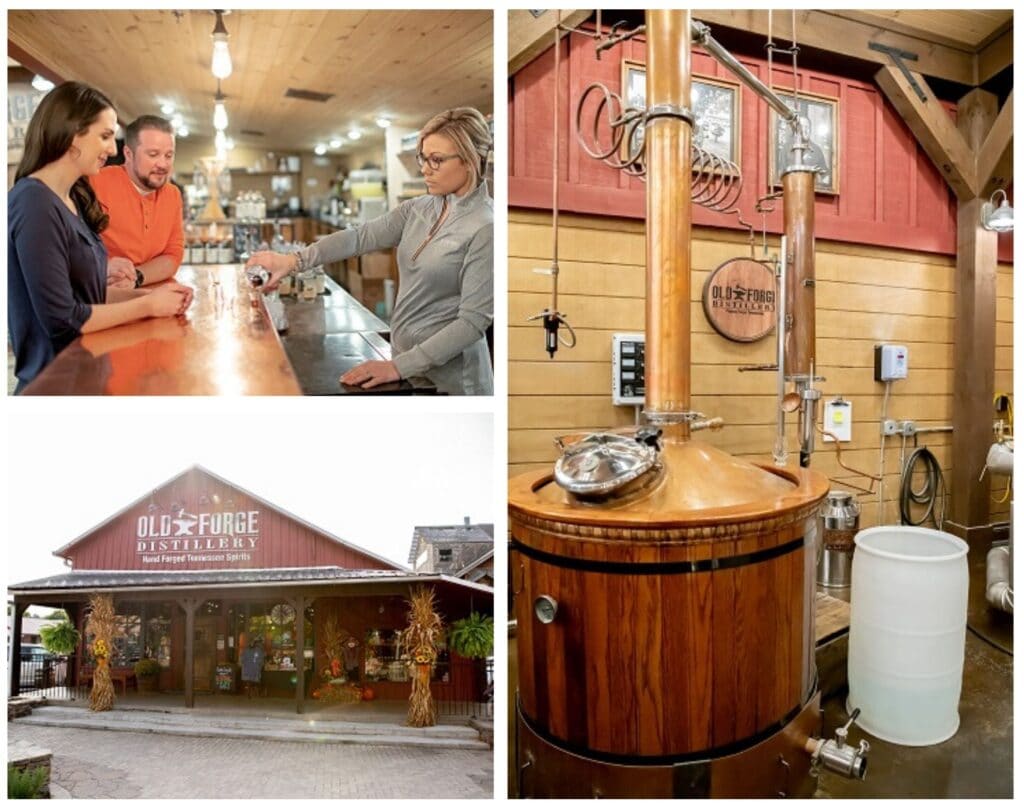 We hope you enjoyed this inside look at the historic Old Mill Square. Make plans to stop in, grab a bite to eat and spend the afternoon browsing all the quaint shops on your next visit to Pigeon Forge, the Center of Fun in the Smokies!