Feeling the RiverRush at Dollywood's Splash Country
The number one activity on the little diva's summer wish list for our Pigeon Forge trip was a day at Dollywood's Splash Country to check out the new RiverRush water coaster. Nothing says summer like a little play time in the water! Splash Country is such a unique water park in that it is nestled up in the side of a mountain. We feel like it is the best of both worlds for us in that we get to play in the water and still be surrounded by the beautiful scenery of the area that keeps us coming back year after year.
RiverRush was our first stop for the day. Given that it was the new ride for this year, we knew that there may be a line but it didn't stop us. We visited with the other families in line and waited with excitement to take our turn. Once we reached the front, Jellybean quickly claimed first dibs on the front of the 4 seater raft, while Peanut grew a little nervous. We were able to coax her into going and she squeezed in between Dad and I. The excitement continued to grow as we sat in our raft and made the climb to the top of the ride. Then, off we went! Down the drops, twisting and turning through the tunnels, and laughing all the way as water splashed up all around us. We did not want the ride to end. It was definitely a fun time and Peanut even asked to ride again!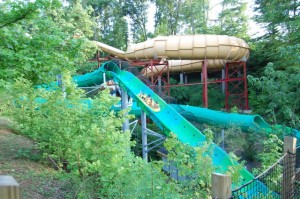 Next stop was more family raft rides on Big Bear Plunge, Raging River Rapids and SwiftWater Run. The giggles and smiles on the little divas' faces were worth every drop of water splashed up in my face! I love that this water park is so family oriented and has so much that families can do together. When Dad and Jellybean decided to leave less adventurous Mom behind to take their turns on some of the slides, Peanut and I headed for a little time in the wave pool, Mountain Waves, until she decided that she wanted to be brave and try some of the slides too.
Watching them come down those tall, steep, and not to mention fast slides made my heart drop a few times but they didn't seem to mind one bit. I was finally able to convince everyone to take a little break and float down the lazy river. The river is situated in a very peaceful part of the park and the surrounding trees add to the relaxation of floating along. We finished our day with a couple more trips down the RiverRush. Despite a little afternoon rain delay, we still made it to every ride and slide that we wanted to get to and to most of them more than once.