Great Weekend to Hike Chimney Tops in the Smokies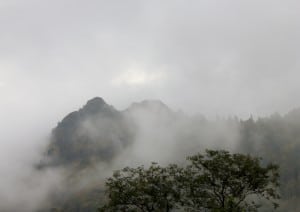 Amid one of the coldest winters in years, a blast of warm weather is hitting the Smoky Mountains this week.  A change in weather patterns brought some severe thunderstorms starting in the early morning hours on Wednesday. Temperatures into the mid-60s followed and set a trend that is expected to continue through the weekend. That being said, it's the perfect opportunity to head out for a hike in the gorgeous Great Smoky Mountains National Park!
Take a trip to the newly rehabilitated Chimney Tops Trail and experience the majesty that is the Smoky Mountains. This trail is easily accessed via US Highway 441 (Newfound Gap Rd.). Chimney Tops is one of the most popular trails mainly due to its short length of four miles roundtrip with moderate to difficult terrain. This trail features new rock steps that have made it easier and safer to navigate, improved drainage structures and raised turnpike structures to prevent further erosion.
You will want to make sure to have a camera handy to stop and snap some pictures of the outstanding views along the trail in addition to the stunning view at the top, where you'll be at an elevation of 4,724 ft. The first half mile of the trail is fairly easy; however, to reach the summit hikers have to hike up 830 ft, making this one of the most challenging parts of the trail. When you reach Beech Flats, you're half way there! Remember to stay right along the trail to reach Chimney Tops. Keep in mind you don't have to climb to the pinnacles to enjoy the breathtaking panorama.
Be on the lookout for some of the spring ephemerals which begin blooming as early as late February. These flowers have adapted to the changing of the forest canopy, blooming before the leaves on the trees above them because of the easy access to the sunlight. We'll keep you up to date with reports of wildflowers in the coming weeks, detailing the best places and times to go. Keep checking MyPigeonForge.com Blog to stay informed!