"Quiet Walkways" and Nature Trails in the Smokies
The most popular way to explore Great Smoky Mountains National Park (GSMNP) is by vehicle. The majority of the millions of annual visitors take in the views of the Smokies by auto touring.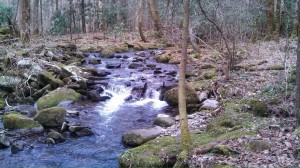 For those visitors who want a more up close and personal experience, we suggest trying some of the "quiet walkways" scattered throughout the park.
These trails are all very short with most of them being under a mile and some as short as just a hundred yards. The terrain of these "quiet walkways" is very accommodating. Some are flat wide gravel or paved walkways that may just lead to the edge of a river or creek. Some lead to small family cemeteries that predate the creation of the park.
To find one of these trails simply look for small wooden signs along the park's main roads that read "quiet walkway". Typically, there are small one to two car parking lots where you can pull off to enjoy these walks.
Many of these trails are "guided" meaning they incorporate information markers and brochures in order to teach visitors about the flora and fauna of that area of the park. These "guided" nature trails have markers with numbers that correspond with information in the brochures to explain exactly what the hiker is viewing at that moment.
Some of these guided nature trails are: The Sugarland Nature trail (located right behind GSMNP headquarters and Sugarlands Visitor Center), the Cove Hardwood trail (located in the Chimney Tops picnic area off of US-441), the Clingmans Dome walkway and the nature trail at the Cosby campground.
Be sure and take advantage of the photo opportunities as you pass by the beautiful streams and moss covered rocks. The trail up to the Clingmans Dome passes through one of the only spruce-fir forests in this part of the country, and the observation tower at the end with an elevation of 6,643 feet allows for spectacular views. If you're interested in learning about the different types of trees and other plants native to GSMNP, the Sugarland Nature trail has markers with information throughout the entire hike.
"Quiet walkways" and nature trails are just a couple of examples of how the Smokies have something to offer everyone, from the most hardened and experienced hikers to the novices who prefer short peaceful walks. Find information on hiking in GSMNP.