More than a Hotel!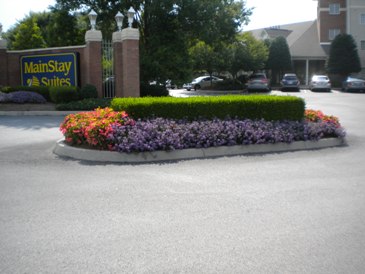 MainStay Suites is one of the hidden treasures in Pigeon Forge. Nestled on a 25 acre farm about ½ mile off the Parkway, it s close to all the action but still offers a quiet, peaceful feel. The landscaping is beautiful and inviting. On our summer visit, the grass was thick and green and brightly colored flowers surrounded the entrance. There is even a creek that runs along the outer edge of the property. Our little divas loved watching the ducks and ducklings swimming along and were even more excited when they waddled up the bank to greet them! Since there's a trolley stop on site, you can leave your car parked during your stay and take the Pigeon Forge Fun Time Trolley to city attractions.
Our family loves to be away from home but still likes to have some of the amenities of home too. This hotel definitely has the needs of a family in mind! We felt like we were staying in an apartment, not a hotel. Each room has a full kitchen which put a smile on this mommy's face. It allowed us the option of staying in for meals along with being able to keep plenty of snacks available for the little divas, even cold ones like popsicles.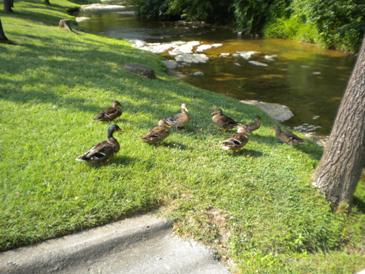 A complimentary continental breakfast is served in the lobby each morning. There were even teddy bear shaped waffles for the kids! Other features that won stars with our family were the nice sized private balcony overlooking the pool and the "as needed" housekeeping service. If we wanted our room spiffed up we could call for services that day and if we wanted our privacy, we could have that too! The laundry facilities on site also came in handy during our stay. We had the misfortune of a can of hairspray exploding in our suitcase while en route, so needless to say… mommy didn't get a break from laundry.
Pool time completed our fun filled days, and there were water options galore. There is an indoor as well as an outdoor pool. Plus a hot tub along with the Lazy River and a kiddie pool that has an umbrella waterfall. The little divas did not know where to start! Jellybean got to practice her swim strokes in the big pool and Peanut got to wade around the kiddie pool and Lazy River without needing help from an adult. Meanwhile, Mom and dad got to relax.
At MainStay Suites there is a nice covered outdoor pavilion that is located on the back side of the property and even an indoor conference center. The beautiful scenery would provide a perfect backdrop for a family reunion or an outdoor wedding.
So, if your family is looking for a little home in your vacation plans or you are looking a facility to accommodate a large group, Mainstay Suites would be a great option!