Some of our most favorite memories of Pigeon Forge are our family drives up into the Great Smoky Mountain National Park. Our summer trip this year was no exception. We started our morning off by filling our tummies with a yummy breakfast at Mama's Farmhouse then we were off for a ride and some exploring. Cades Cove was on the agenda. It was a perfect mountain day. Temps were cool so we rode along with the car windows down. It was so refreshing and calming to hear all of nature's sounds, especially the fresh water running along in the roadside streams. The little divas loved it too. I looked back and caught them chilling with their feet hanging out the car windows!  They were making up songs about bears and of course, having a little sibling rivalry too.  Nonetheless, we were all together and enjoying our leisurely paced family time away from our everyday routines.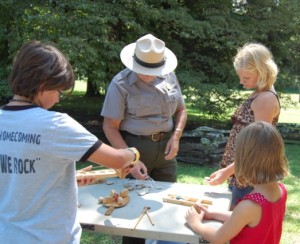 Just before reaching our destination, we stopped at one of the roadside stores and grabbed a Cades Cove Tour book so we could have a little "education" time and learn about the history behind our stops. The girls were ready to get out of the car by this time.  They were excited to explore this old pioneer town. We had been to Cades Cove once before during one of our winter trips but our Texas blood made us too wimpy for lots of walking around in the cold mountain air and snow. We stopped at the log cabins, churches, cemeteries, and then the Cable Mill Historic Area and Visitors Center. A park employee was giving a demo of toys made with wood from the park and another employee was in the grist mill where fresh cornmeal was being made. We saw other families having picnics and hanging out as well as bicyclists enjoying a leisurely ride through the 11 mile cove. I love the pictures I got of Jellybean and Peanut in the natural settings…there are sure to be some wall hangers!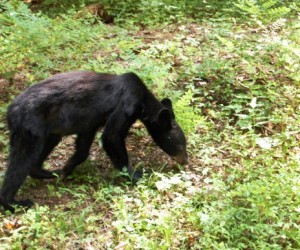 Not long into our drive back down the mountain, I hear Jellybean teasing from the backseat that she smelled bear poop. And coincidentally, off along the side of the road, slowly wandering around and sniffing the grass was a little black bear cub! Oh the excitement that exuded from our car. Knowing that mama bear had to be close by…I quickly snapped lots of pictures from the car window and we all watched in amazement.  Finally after many trips to the Great Smoky Mountain National Park, our wish to see a bear had came true!
Family, summer vacation, and a wish come true…perfect combination!