Operation Pigeon Forge: A Family's Story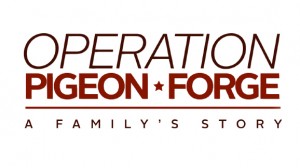 I just finished watching Operation Pigeon Forge: A Family's Story on GAC, with a friend. Oh my goodness…what a sweet way to bless a military family who is about to go through another separation as the dad is being deployed for the 6th time! He mentioned that as the time gets closer to him being deployed, all they want is to do family stuff. Pigeon Forge took care of them!
My family can relate to them in the aspect that, family time is important to us too. But, I can't even imagine what it would be like to go through a deployment and have our family separated for an extended length of time. One or two days of daddy being gone for work trips makes our household sad enough.
My heart melted for them as I watched the smiles on each one of their faces and the gleam in their eyes as they experienced the amazing shows and thrilling attractions together as a family. The hospitality that we have come to know and love from Pigeon Forge was showered on them. Their memories from this trip are no doubt priceless!
This show also made me miss Pigeon Forge even more! In between me telling my friend about all the fun places that this family was enjoying, little light bulbs kept popping up in my head with ideas for our next trip there. My friend kept saying over and over, "Wow…that looks like such a fun place!" I think I might know where she may be planning their next family vacation!
In case you missed out on seeing the premier of Operation Pigeon Forge: A Family's Story here's a schedule of when it will be airing again:
7/13 @ 1:30am
7/13 @ 3pm
7/13 @ 7pm
7/15 @ 10:30pm
7/16 @ 2:30am
7/20 @ 2pm
7/21 @ 11am
7/21 @ 11pm
7/22 @ 3am
7/29 @ 3pm
7/29 @ 10:30pm
7/30 @ 2:30am
7/30 @ 2pm
7/31 @ 11pm
8/1 @ 3am