Pigeon Forge Thanksgiving Recipes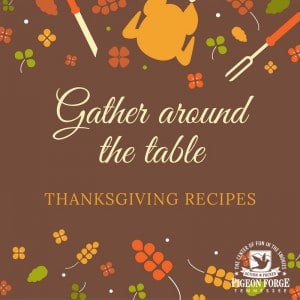 Thanksgiving is a wonderful time of year to share with family and friends. As the year starts to come to an end, we reflect on all that we have to be thankful for. Along with the celebrating comes a feast like no other in our house. Cooking together is a great way to make long lasting memories together as a family. Here are a few recipes to help you celebrate Thanksgiving in your home this year.
This recipe might help keep the "hungrys" away until lunch/dinner is ready.
It has pumpkin spice in the name so it has to be good, right?
Pumpkin Spice Monkey Bread with Cream Cheese Glaze
INGREDIENTS
3 cups Jiffy mix
1 cup International Delight® Pumpkin Pie Spice Coffee Creamer
¾ cup cup sugar
¼ cup brown sugar
2 teaspoons pumpkin pie spice
½ teaspoon cinnamon
¾ cup butter, melted
FOR CREAM CHEESE GLAZE
1 16 oz. container cream cheese frosting
¼ cup International Delight® Pumpkin Pie Spice Coffee Creamer
INSTRUCTIONS
Preheat oven to 350º. Spray bundt pan with non-stick spray or lightly grease. In large bowl, combine baking mix and Pumpkin Pie Spice Creamer; set aside. In a medium bowl, combine sugar, brown sugar, pumpkin pie spice and cinnamon; set aside. In a small bowl, combine cream cheese frosting and ¼ cup Pumpkin Pie Spice Creamer until blended; set aside. Roll dough into 1″ balls and toss in melted butter, followed by coating dough in sugar mixture. Stack dough balls in prepared pan, drizzling with cream cheese glaze at halfway point. Bake 25 – 30 minutes or until golden brown and no longer doughy. Allow to cool in pan for 15 minutes. Invert pan onto serving plate and tap the top to release. Drizzle with remaining Pumpkin Pie Spice Cream Cheese Glaze.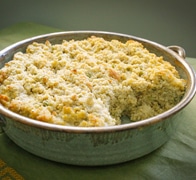 Stuffing is an integral part of the meal to make that big turkey taste even better.  Here is a recipe to try from the Old Mill Kitchen. Head on over to the Old Mill General Store to get your Old Mill Self-Rising Cornmeal and the Old Mill Cornbread Dressing Seasoning Mix.  The store sells fresh ground grains straight from the mill along with many other food items that you taste in their restaurants in Pigeon Forge.
Food, family, friends……Have a very Happy Thanksgiving!!