THANKSGIVING IN PIGEON FORGE
Start a new family tradition with a Thanksgiving trip to Pigeon Forge
Looking for things to do on Thanksgiving? Pigeon Forge and the Great Smoky Mountains are exceptionally amazing during this time of year. As the leaves finish changing colors and begin to fall off the trees, its a sign that winter is soon approaching. Throughout the month of November, the area begins its transformation to welcome the much-anticipated holiday festivities and celebrations.
The charming family atmosphere, amazing views of the Great Smoky Mountains and millions of Christmas holiday lights that begin to illuminate the area make Thanksgiving in Pigeon Forge even more incredible. Bring your family to join in the fun. Start exploring these fun events and things to do during Thanksgiving in Pigeon Forge
Best Things to Do During Thanksgiving in Pigeon Forge
Our lovely Pigeon Forge cabins and chalets feature spacious kitchen and dining areas that can easily accommodate families both large and small. Watch the football game or enjoy one of the many great amenities available in our Pigeon Forge cabins such as foosball, pool, card games and even hot tubs. Thanksgiving in Pigeon Forge offers the perfect opportunity to enjoy a delicious meal and spend some quality time with the ones you love most.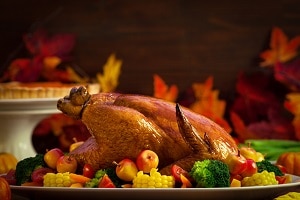 Restaurants Open on Thanksgiving
Looking for some delicious alternatives to cooking a Thanksgiving feast? Pigeon Forge has plenty of outstanding restaurants open on Thanksgiving Day.
Restaurants open on Thanksgiving Day for meal time:
Restaurants serving special Thanksgiving menus:
Restaurants open for those with non-traditional cravings:
As the leaves begin to change during the late fall season, it's easy to see why the Smoky Mountains are such a popular destination for young and old alike. The Pigeon Forge area offers an abundance of fall activities and attractions that are perfect for a family getaway or weekend trip for two.