Pigeon River Pottery Tour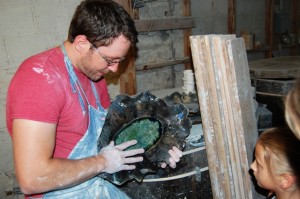 One of our favorite places to shop while we are in Pigeon Forge is the Pigeon River Pottery store in Old Mill Square. The whole family can get lost in browsing around and the little divas can sit for hours watching the pottery making demos. We were lucky enough to get a behind the scenes tour with artist Tim Kerns. We saw the process from throwing pots on the wheel through the firing and glazing process to the finished inventory room.
Pigeon River Pottery started in the same location over 50 years ago and is still going strong. Jellybean and Peanut were amazed at the all the steps that a piece goes through before being put on a shelf to sell. This is definitely not a one day project! It is a multiple step process that starts with a little clay. It's fascinating how much patience and detail that the artists use as they sit at the potter's wheel to get the right shape and size. Just when you think you know what they are making, they change their hand positions or use a tool on it, and it takes on a whole new shape.
We met several ladies who were cleaning and smoothing pottery pieces and then watched as a kiln was being loaded with items to be fired. They work in large quantities here so being as efficient as possible is important. Many pieces are loaded onto the cart at one time and then rolled into a rather large, hot oven for several hours. Next up was the glaze area. It was interesting to see that they look completely different in the buckets than they do on the finished pieces.
Art…it is always full of surprises! Peanut actually had several questions for Mr. Kerns along the way. It totally surprised dad and me that she was paying attention and deep in thought about the process. Mine and Jellybean's favorite part was, hearing about how they make the larger decorative bowls with crushed glass in the bottom. These pieces are beautiful!
Final stop of the tour was the inventory room where the final products are organized and neatly stocked. Not only do the artists make pottery for the store to sell, they also make the plates, bowls, salt/pepper shakers and other pieces that are used at Old Mill Restaurant and Pottery House Cafe and Grille. So the shelves have to be continually filled.
Pigeon River Pottery makes great gifts as they are handcrafted and unique. No two pieces are exactly alike. It is hard not to fall in love with every piece. It should be "must do" stop on your Pigeon Forge shopping list!