Pizza…That is What's for Dinner!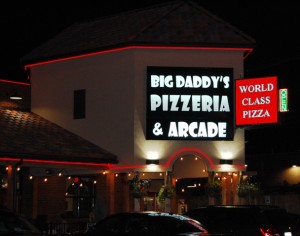 We got to celebrate Dad's birthday during our last visit to Pigeon Forge. It was fun-filled day packed with lots of good times at Dollywood.  For dinner, he opted for more fun at Big Daddy's Pizzeria where some great friends joined us. Almost every restaurant in Pigeon Forge is family oriented and this was no exception.
It was a perfect night so we chose to eat outdoors and enjoy the nice mountain air.  As if we hadn't eaten anything all day, we ordered some appetizers to start off with while we relaxed and surveyed the menu for the perfect pizzas to order. Our appetizers of choice were the wood-fired, roasted wings and the Dough Daddies. I think we could have stopped our meal there and been full for the evening!
The little divas loved the big arcade inside. They are always about having fun so it was a good way to  entertain them while we waited for food as well as to help them burn off their last little bit of energy before bed . They kept running back to our table to grab another bite of from the appetizer plate and of course, ask for more coins!!
Big Daddy's Pizzeria offers a great selection of pizza choices. I think they have every taste bud covered with over 35 toppings to choose from, and if you are not in the mood for pizza, they have you covered with a selection of salads and sandwiches. Dad was in the mood for pizza though so we let him make the choices, except for Peanut. She wasn't going to budge from having just plain cheese pizza! He chose a very manly pizza, The Carnivore. We girls went with something we figured we might enjoy more, the Tuscan Pizza. Their pizzas are cooked in a brick oven and everything is homemade and fresh from crust to sauce, and this shows in the taste! We were not disappointed with either pizza and very few pieces were left over.