Plan a Whitewater Rafting Adventure in Pigeon Forge
Pigeon Forge is known for all the action along the Parkway, but there is plenty to do off the Parkway as well. For those looking to take their trip to the next level, planning a whitewater rafting excursion could be the perfect way to make your next trip one you won't soon forget.
While the Little Pigeon River is known for its more leisurely activities, the Big Pigeon River is a popular spot to go whitewater rafting or kayaking while on vacation in Pigeon Forge with its thrilling white-water rapids.
---
The Pigeon River, located within a short drive
of Gatlinburg, Pigeon Forge and Sevierville,
is the #1 most rafted river in America.
---
Located off I-40 in Hartford, Tennessee, about 50 minutes from Pigeon Forge, the Big Pigeon River is a great place to cool down and enjoy an exciting adventure on the water. And just in time for Spring Break, the 2023 Pigeon River rafting season opened March 1, and runs through mid-October.
Get your adrenaline pumping with a run through class 3 and 4 whitewater rapids on the upper portion of the Pigeon River or choose to relax and take in the beauty of the Great Smoky Mountains on a float trip through the lower portion of the river. The Big Pigeon River offers the perfect spot for whitewater rafting during any season.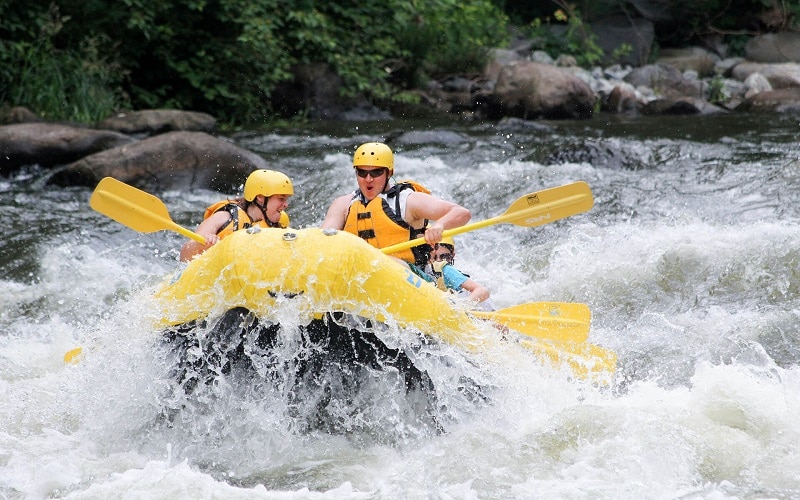 You can bring the family together for a fun-filled day of adventure and memories that will last a lifetime. From novice to expert rafters, there are whitewater rafting trips for a variety of skill levels and ages.
Whitewater Rafting Trips on the Upper Pigeon River
Go on a guided whitewater rafting trip on the upper Pigeon River for a thrilling ride through class 3 and 4 rapids. Splash and surf through waves, maneuver around rocks and just enjoy your time on the water. Rafts hold up to 6 people, along with your guide, so there is plenty of room for the entire family. And no rafting experience is required. Your guide is there to make sure everyone stays safe and enjoys the experience.
Skilled rafters looking for even more adventure will love the extreme upper river rafting trip which includes a run through the Pigeon River rapids, but this time in a smaller raft and with a maximum of three rafters and your guide. It's one heart pounding experience you won't soon forget!
Scenic Floating Trips on the Lower Pigeon River
Scenic floating trips through the Big Pigeon River gorge are perfect for families or anyone looking for a relaxing float down the river. Enjoy your time on the water splashing and playing and just taking in the beautiful natural surroundings. Rafters can stop and go for a swim in the calmer section of the river. And you may get a chance to spot different species of wildlife along the way.
Another fun option is to take a guided kayaking tour, where you get to drive your own boat! It's a great way to learn how to navigate and play in the rapids by surfing, spinning or sliding.
Pigeon Forge has two top-tier rafting companies that offer you the whitewater experience of a lifetime. Check out the companies below to start planning your whitewater adventure today!