Rhododendron, Mountain Laurel and Flame Azalea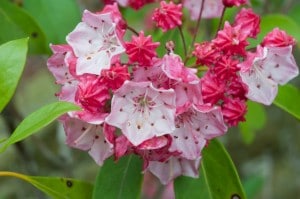 June is an important time of year in the Smokies. This is when thousands of families take their summer vacation, so park visitation is usually close to its peak. It's also the time of year when some famous flowering shrubs native to the Smokies begin to bloom.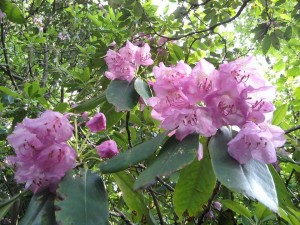 Rhododendron is a relatively common plant, but the wild versions which grow in Great Smoky Mountains National Park vary a little bit from what you might grow at your house. Catawba rhododendrons have brilliant pink/purple flowers. They begin blooming in early June at elevations above 3,500 feet and will continue to reach their peak at higher elevations as the month wears on.
Some good places to see the Catawba rhododendron are just past Chimney Tops trail parking lot on Newfound Gap Road (U.S. 441) or, if you prefer to hike, Brushy Mountain trail, Alum Cave trail and Andrews Bald are a few safe bets.
Rosebay rhododendron (white flowers) will start to appear at lower elevations in the park this month, but in July and August they'll be popping at all elevations. A common name for both the Rosebay and Catawba rhododendron in the Smokies is "laurel". Inhabitants of the Smoky Mountains in the 19th and early 20th centuries almost always used this name. This is one of the many reasons why the word "laurel" is such a frequent name of many places in the park: Laurel Creek, Laurel Branch, Laurel Falls etc.
The similar-looking white and pink flowering plant, mountain laurel (genus Kalmia), blooming from early May through June, was called "ivy" by the mountain people. It's kind of confusing to think about – Rhododendron is "laurel" and mountain laurel is "ivy," but even today many people still refer to these beautiful plants by their old names.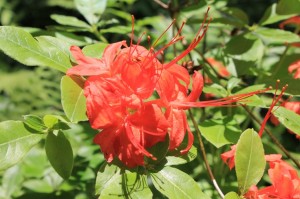 Another flowering shrub blooming in the Smokies is the flame azalea shrub, which has many small orange-reddish flowers. These plants are blooming now but are expected to be at their peak throughout the next couple of weeks. Andrews Bald near Clingman's Dome and Gregory Bald in Cades Cove are always favorite spots for flame azaleas.