Shows, Shows, and more Shows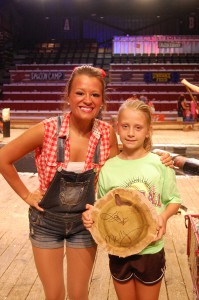 Pigeon Forge is known for it's high quality entertainment.  As the weather is starting to change and those cool outdoor temperatures are making their way in, it is the perfect time to plan for some indoor  fun.  With so many different shows, one is sure to spark your family's interest.
If you are looking to knock out dinner and entertainment at one time, dinner shows are the perfect option!  It is a fun time for the whole family.
Dolly Parton's Dixie Stampede Dinner Attraction – This award winning show is always a hit and they are offering new sights, new sounds, and new adventure in the show for 2015.  Our girls love the horses and watching  the stunt riders.  The lights and colorful costumes add to the great ambience.  The dinner feast is also a hit….you definitely will not leave hungry!
Hatfield and McCoy's Dinner Show– This dinner feud will keep you laughing!  The mountain-style music and dancing mixed with some comedy has been a favorite with our family, trip after trip.  We definitely don't mind seeing this show over and over.
Lumberjack Feud- This show is unique from the others in that there are actual lumberjack athletes competing in 18 events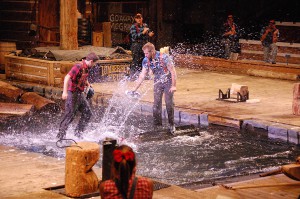 throughout the show.  There are even some audience participation events and it is a fun time cheering on both the Dawsons and the McGraws.  The Logger's Mountain meal is hearty but be sure to save room for dessert too.  The best part for our girls is getting the wood "cookies" signed by the athletes after the show!
The Grand Majestic Theater– Currently offering the Smith Family Dinner Show and the Hazzard County Hoedown.  Dinner is served prior to the show and is a country style buffet with many Southern favorites.  Chicken and dumplings topped the list for our family.  Dad and I were super excited to take the girls to the Hazard County Hoedown as we both grew up watching the Dukes of Hazzard.  Roscoe definitely stole the show and we enjoyed the humor along with the singing and dancing.
If you prefer just relaxing and listening to some great music, there are some great shows for that too.
Country Tonite– This "Must-See" show offers a very talented cast from the youth singers to the musicians who have played with stars like Loretta Lynn and George Jones.  It is hard to not tap your toes and sing along as they span the decades with many all time favorites.  There is even a little comedy mixed in and they do a fabulous patriotic tribute at the end of the show.  A bonus here is that kids 12 and under are free with a paying adult!!
Smoky Mountain Opry– This is known as Pigeon Forge's best variety show.  There is music and dancing as well as comedy and amazing special effects.  You will be mesmerized by the many different costumes and here too, you are sure to catch yourself singing along with many of the tunes.
For those families traveling with kids, they often do not want to stop playing long enough to sit down and watch a show.  However, Pigeon Forge has you covered with some entertaining shows that they will enjoy too!
The Comedy Barn– Our girls love this show.  They get captivated with watching all of the different animals as well as the ventriloquist and juggler.  It is a great family friendly activity that will have your family smiling from ear to ear.
Magic Beyond Belief– Most kids love the world of magic.  What would be better for them than seeing it up close and personal?  Darren Romeo was mentored by Siegfried and Roy and will amaze you with his performance.
With great shows like these, your family can't go wrong!!  Make sure to add several of them to the agenda for your next family fun adventure to Pigeon Forge!