Spring Hiking in The Smokies
The warm weather, blooming wildflowers, and the sprouting trees mean it's time to head for the mountains. Most roads within Great Smoky Mountains National Park have opened for the season, including Clingmans Dome Road that opened a week earlier than scheduled due to good weather. We think that's a great sign for the springtime, so we put together a short list of trails and activities to get you out and exploring.
1.    Porters Creek Trail – You can find this trailhead in the Greenbrier section of the National Park located off of US Highway 321. The trail starts out wide and leads you past remnants of what used to be the Porters Creek community. A little farther down the trail, you will come to a fork. Follow it to the right, and tucked back in the woods you will have the opportunity to enjoy an old farm site and a historic cabin that was built by the Smoky Mountain Hiking Club in the 1930s.  Follow the trail across the river to see the woodland floor blanketed in white fringed phacelia wildflowers.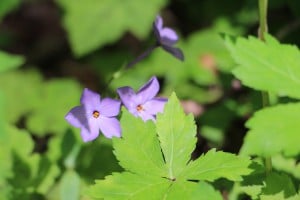 2.    Little River Trail – This moderately easy hike is located right outside of the Elkmont campground located off of Little River Road. You can find a variety of wildflowers here throughout the months of April and May. Enjoy white and yellow trillium, spring beauties, Canadian violets, and maybe even jack-in-the-pulpit during the early season. This trail continues to follow the river where you will likely see lots of trout fisherman during this season.
3.    Spring Wildflower Pilgrimage – The 66th annual Spring Wildflower Pilgrimage in the Smokies will be held April 19-23, and offers 144 programs. Enjoy several great wildflower walks, birding, photography classes, and much more during this springtime event. You can find more details at http://www.springwildflowerpilgrimage.org/.
4.     Wilderness Wildlife Week – Guided hikes, photography seminars, hands-on  arts and crafts demonstrations, and presentations on anything from black bears to the heritage of Cades Cove are some of the things happening at this year's Wilderness Wildlife Week, May 18-22. The event will take place at the LeConte Center at Pigeon Forge, and is open and free to the public. You can find more information at https://www.mypigeonforge.com/events/wilderness-wildlife-week/.