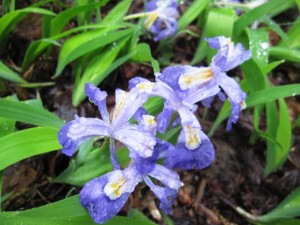 As the old saying goes, "April showers bring May flowers." That's certainly true up in Great Smoky Mountains National Park this time of year.
We received plenty of rain here in Pigeon Forge this spring and there's been even more rainfall accumulation at higher elevations up in the mountains. This is a very good sign for wildflower enthusiasts who plan on visiting the area in the coming weeks.
Last Friday I took a trip up to the National Park to see which wildflowers had begun to bloom. It was a rainy day, but I headed up to the Porter's Creek Trail in the Greenbrier area of the Park. Porter's Creek is famous for its wildflowers, specifically the Fringed Phacelia which blankets the ground during its peak bloom.
The first flowers that caught my eye were the Purple Dwarf Irises which grow in large clumps. These made for some great photos, especially with the rain drops on the petals.
There were a lot of White Trilliums some were in full bloom but most still had a week or two to go before they peaked. The same goes for the little white Squirrel Corn and Dutchman's Breeches. The Mayapples, large umbrella like plants, were plentiful and a few of them had blooms as well.
The tall skinny Bishop's Cap seemed to be everywhere but there were no signs of their cousin, the Foamflower, yet.
The highlights of the day were finding a couple blooming Showy Orchis and, of course, the Fringed Phacelia. The Phacelia is still at least two weeks from its peak.
Overall, the wildflower report was very promising. The coming weeks should provide a spectacular display of flowers, not only on Porters Creek but all over Great Smoky Mountains National Park.
If you're planning on coming to Pigeon Forge over the next few weeks I would strongly recommend taking a short trip up to the mountains to check out these wildflowers. They provide some of the most beautiful natural sights in the world. We're so lucky to be located in such a beautiful area!
To see more pictures visit our Smoky Mountains board on Pinterest.