Spring Wildflower Report: May in the Smokies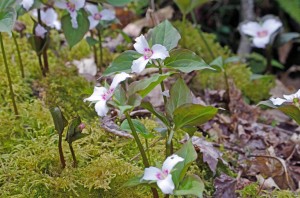 You've heard the saying, "April showers bring May flowers," and that's certainly true in the Smokies right now. Great Smoky Mountains National Park has seen almost 6.5 inches of
precipitation this past month which is over 2 inches more than the monthly average for April. This has led to some spectacular wildflower displays all over the park.
You're likely to see wildflowers on almost any trail in the Smokies right now, but some of the most notable places to go are: Little River Trail in Elkmont (wide and flat graveled trail which parallels the Little River), Gregory Ridge Trail in Cade's Cove (trailhead located at the end of Forge Creek Road), Schoolhouse Gap Trail (2.2 miles of gradual incline in elevation, accessed via Laurel Creek Road) and Middle Prong Trail (accessed at the end of Tremont Rd.).
Several species of wildflowers are just now reaching their peak: Foam Flower, Rue Anemone, Yellow Trillium, Painted Trillium, Catesby Trillium and Little Brown Jugs.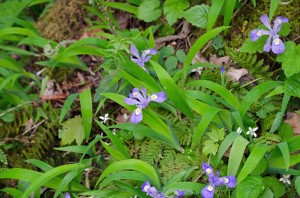 It's also fairly common to see the beautiful purple and yellow Crested Dwarf Iris and pink Showy Orchis during the early parts of May. You'll also want to keep your eyes open for Lady Slippers of both the pink and yellow variety as the month wears on. There's usually a particularly good display of yellow Lady Slippers on Ash Hopper nature trail located just across the road from Sugarlands Visitor Center.