Cozy and Budget Friendly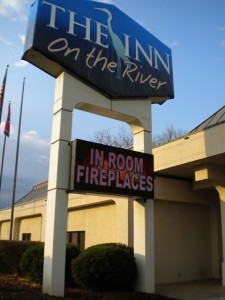 The Inn on the River is a recently updated hotel that more than met our expectations for our weekend stay. On our previous trips, we had stayed in a one of the Pigeon Forge cabins or condos with the little divas. However, given it was just dad and I on this trip we obviously did not need a lot of space, thus we decided to go the hotel route.
The hotel is nestled along the Little Pigeon River and several yummy restaurants, such as the Partridge and Pear at the Christmas Place and Mellow Mushroom, are within walking distance.
Our room was nice and cozy. It sure felt nice to not have to keep two little divas' noise levels from disturbing the neighbors! We even had our own private balcony. Dad and I both enjoyed walking out on it in the mornings to drink coffee, while taking in the sights and sounds of the river.
I was very impressed with the amenities this hotel offered. Mornings were made easy with a nice complimentary hot breakfast buffet, complete with a waffle maker and an omelet bar on the weekends. The lobby boasted a great fireplace with plenty of seating. It had a family "living room" feel. We witnessed several families enjoying game nights as well as just sitting around socializing. The staff popped fresh popcorn nightly. I happened to enjoy this several nights for my late night snack! Although dad and I did not have any extra time for swimming, there was also a nice indoor swimming pool and hot tub. There was even an outdoor pool located along the river side of the hotel.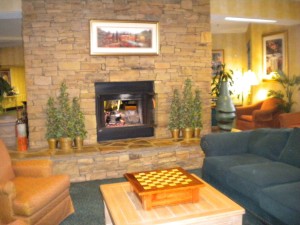 Best of all, the Inn on the River is budget friendly and clean. In this day, those two factors weigh high on a traveler's "must" list when planning a trip!