The Island Experience: Part 2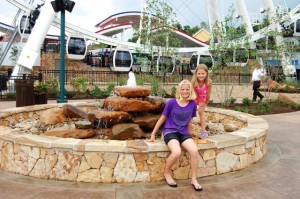 On our next visit to The Island, we went during lunchtime. The sun was shining and it was a beautiful day. It was fun to see other families there taking in the newness of it all too. We stopped in at Mellow Mushroom to eat. Everyone loves pizza and their pizza is really good. One of the pizza makers clued me in on a little hint…there is molasses instead of sugar in the crust which is what gives their pizza its unique taste. We were each able to order individual slices to our likings, so everyone was happy. Next up was a stop next door at Island Yogurt for a little dessert. Self serve frozen yogurt with plenty of choices for fixings…another yummy!
An afternoon fun activity for the little divas was bouncing in the Euro-Bungy Dome. They liked it so much that they asked to do it more than one round. It eventually turned into a competition to see who could do the most consecutive flips and even dad took his turn. Peanut, the youngest one in the family, won with 3 ½ turns!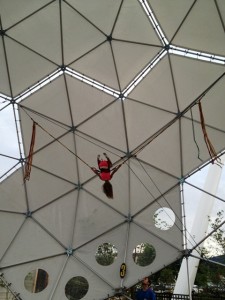 Next they had to check out Arcade City. We were the first family from our city in South Texas to put a red star on their big visitors map. The arcade is bright and fun and filled with the latest in games. Even we big kids at heart had to do a little playing.
As I mentioned, we made a visit almost every day to the Island, so on one of our last days we made it our dinner choice. We wanted to check out Timberwood Grill. The restaurant had been open for less than a week. It has a great outdoorsy mountain feel and the little divas thought that the servers were dressed like the lumberjacks from the Lumberjack Feud show which we had seen earlier in the day. We tried the Timber Spears- fried dill pickles with a jalapeno ranch dipping sauce- for an appetizer while we decided on what else to feed our hungry tummies. Yes, they were good! For dinner, we all had something different. Dad went for the Blackjack Ribs, Jellybean had Fighting Creek Fish Tacos, Peanut chose the kids Cheese Quesadilla, and I went for the Twin Forks Honey-Glazed Fried Chicken. None of us were disappointed! The portion sizes were very generous so you get a lot of bang for your buck or leftovers for lunch the next day in our case. Peanut eyed the dessert menu first thing so there was no leaving without her trying the Campfire S'more Sundae and Jellybean gave the Blizzard Gap Peanut Butter Pie at try. Both choices were definitely a hit.
Our excitement for this new Pigeon Forge addition is hard to contain as it is another great example of how this city is continuously adding memory making experiences for families to enjoy year after year. The best part is there is more to come! Margaritaville Island Hotel with a rooftop pool, a 2.7 million dollar show fountain project, along with many more shops and restaurants are all in the works. We are in awe!