Why Now is the Time to Camp in Pigeon Forge
Whether 2020 brings visitors to Pigeon Forge for the first time or the fiftieth time, one thing is certain: families are getting creative when it comes to traveling. For many (my family included), this means getting closer with nature.
RVs have become a hot commodity this year and campground reservations can be hard to come by. But, there's great news for Pigeon Forge visitors! The city has an abundance of campgrounds in the area that offer tent camping, RV sites, and in some cases, free-standing cabins to rent.
If you are looking to bring your recreational vehicle to Pigeon Forge, plan to enjoy the beauty of the Smoky Mountains, the kindness of the locals, the delicious southern food, as well as plenty of things to see and do in and around town.
Why Go Camping in Pigeon Forge?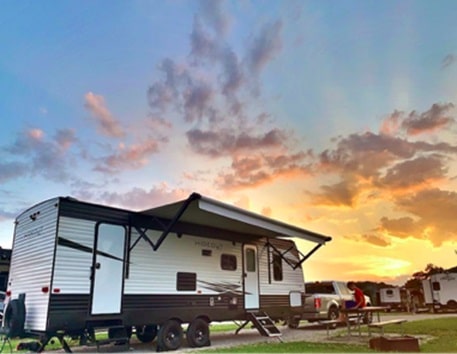 Besides the fun of camping in general, Pigeon Forge is a great destination with an abundance of opportunities for outdoor recreation such as hiking, fishing or boating, all set within a relaxing mountain atmosphere.
Camping in Pigeon Forge is a great way to get up close with nature, but still have easy access to entertainment and dining options nearby. For moms like me, part of the fun of a vacation is being able to alternate between home cooked meals and dining out on local fare.
While we prepare most meals ourselves in our trailer, it's nice to grab take-out, enjoy a dinner show, grab some ice cream for the kids, or even just take a walk through the shops at The Island.
Best Places to Camp in Pigeon Forge
There is something for everyone when it comes to camping in Pigeon Forge.
Enjoy an authentic camping experience at Up the Creek RV Camp. Nestled between Walden Creek and Cove Creek and surrounded by hardwoods, these spacious camping sites make it easy to just relax and enjoy the peaceful sounds of the creek.
Foothills RV Park & Cabins is located just minutes from attractions around Great Smoky Mountains National Park. The camp is directly on the trolley route, providing easy access to all the shopping, dining and entertainment options Pigeon Forge has to offer.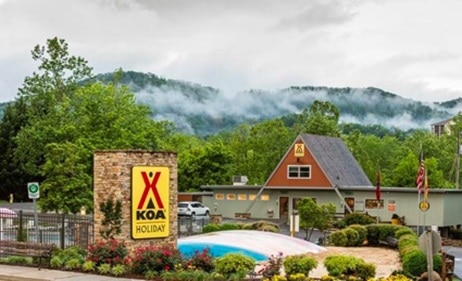 If being close to the action is important, you will also find plenty of great campground options in the heart of Pigeon Forge; many with campsites right on the Little Pigeon River.
The Pigeon Forge/Gatlinburg KOA Campground offers beautiful sites for RVs as well as cabins and tent sites. And the campground offers an abundance of entertainment options that the whole family will enjoy such as a gravity rail, gem mine, playground, pool and dog park.
The camping sites at Camp RiversLanding offer a quiet, secluded stay, as they are tucked away on the banks of Little Pigeon River. Enjoy a relaxing vacation with the river as your backyard, making it easy to enjoy fun activities like fishing and tubing.
These campgrounds and the amenities they offer bring campers back to Pigeon Forge year after year. For even more great options, browse a full list of campgrounds in Pigeon Forge.
I love that in just a few hours of driving, we can be fully immersed in a fun, safe and relaxing vacation, while enjoying the comfort of our travel trailer.
Pigeon Forge really has it all!
Please note: While Pigeon Forge campgrounds are open and ready for you to camp, there may be some restrictions on amenities, so make sure to check the official websites for complete information.
About the Author:
Andrea Updyke is the mom behind Just is a Four Letter Word. She is a travel-loving boymom with a cooking habit who lives in Raleigh, NC. Andrea celebrates everyday mom magic by sharing ways to make life a little easier and a lot more fun!