Wonderworks: An Amusement Park for the Mind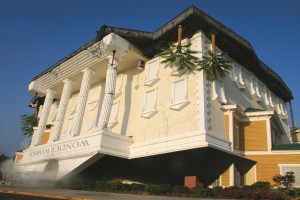 As soon as you enter Pigeon Forge, TN you're likely to notice one of the most bizarre buildings in the world. There is an 82-foot-tall three-story house, sitting upside down right along the Parkway. WonderWorks is a giant laboratory that was supposedly picked up by a tornado thousands of miles away and landed in the foothills of the Smoky Mountains on its roof! To go inside and view the exhibits you must first pass through the inversion room to prepare your body for the upside down world that is awaiting you. Once inside, you can enjoy over 100 mind bending exhibits and fun activities unlike anything you've ever experienced before!
Lie harmlessly on a bed of 3,500 nails, explore outer space in the Space Zone, and distort your reality in the Far Out Illusion Gallery. If you've ever wondered what an earthquake feels like head over to the Disaster Zone where the 1989 San Francisco earthquake is recreated. Go to Quake Café to experience just how powerful a 6.0 on the Richter Magnitude Scale can be.
Play a game of Mind Ball which relies not on your physical abilities or coordination, but on how calm you are. Using EEG Technology participants wear headbands that monitor brain waves to move a ball across a table. Whoever can relax the most sends the ball to the opposing side and wins!
Kids of all ages will be eager to head over to the bubble lab. Create a gigantic bubble around your entire body which refracts colorful light to let you know how thick your bubble is. More fun with light and sound can be found at the sound lab where you can play with 3D sound and experiment with your own shadow.
The Challenge Zone is designed to test your physical abilities with rock climbing, Extreme 360 bikes, and more. Those that enjoy climbing will love the ropes course that spans over four stories and is filled with activities and obstacles. More physical tests await those who enter Wonder Park, a place where you can simulate a Major League Baseball pitching experience against famous hitters.
One of the most unique exhibits, the Wonder Coaster motion ride, allows you to design and ride your very own virtual roller coaster! There are so many games to play and activities to do you and your family will be busy having fun from the time you enter until you leave. It's one of the many fun-filled attractions that Pigeon Forge has to offer.