3 Best Alpine Coasters in Pigeon Forge
Nestled along the foothills of the Great Smoky Mountains, many people will recognize Pigeon Forge as the home of Dollywood, Dolly Parton's Appalachian-themed amusement park.
My family and I first visited the mountain town of Pigeon Forge back in the early summer of 2019. We obviously couldn't do everything there is to do in a few short days, but experiencing the excitement of a Pigeon Forge alpine coaster made the list. After much debate and conversations with our kids, we decided to put the three best alpine coasters in Pigeon Forge to the test!
This incredible alpine coaster is located in Pigeon Forge Wears Valley, which is known for its beautiful landscapes and mountain twists. It is in contention for the longest alpine coaster in the United States, which sets it apart from all the rest! This track is over a mile long and the entire ride measures out at an astonishing 5,400 feet, taking almost 8 minutes to get from top to bottom. It's one of the original Pigeon Forge alpine coasters and is rated one of the best by riders in the Smokies.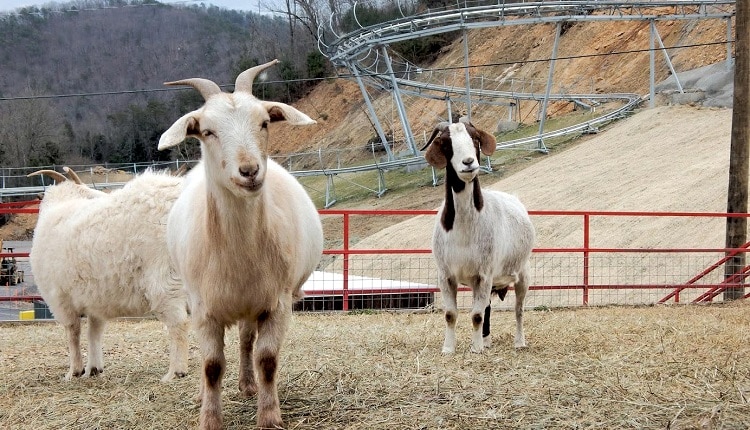 The Swedish concept of 'Goats on the Roof' began in the 70's at a famous restaurant in Wisconsin, where the owner had goats on the roof, munching away at food. In keeping with that theme, Goats on the Roof aptly named their alpine coaster the 'Goat Coaster'.
Not only can you see goats on the premises (which the kids will love), but you can take a few minutes (7 to be precise) to take this twisting ride that measures out at close to a mile. Whether you choose to ride by yourself or in tandem with another person, you'll be able to hit speeds of up to 30 miles per hour!
Rocky Top Mountain Coaster touts themselves as the longest coaster in eastern Tennessee with 4 lift hills and 4 drops that will keep you on the rails for 9 minutes! Located on more than 20 acres of absolutely stunning Smoky Mountain land, this is one of the longest mountain coaster experiences in the world.
You can certainly ride this coaster in the daytime, but veterans of the ride suggest that you give it a shot at dusk and beyond, where you can really find a unique experience. With colorful lights guiding you through tunnels, curves and hairpin turns – you'll have the thrill of a lifetime.
If you've never been on an alpine coaster before, it's something to add to your bucket list. With the vibrant Smoky Mountain terrain surrounding you, riding alpine coasters in Pigeon Forge is an experience you'll be sure to carry home with you long after the vacation is over.
Bonus Tip: Ready to experience a Pigeon Forge alpine coaster now? Take a virtual ride and see what all the excitement is about!
About the Author:
Adrian Kulp is a lifestyle and parenting blogger at 'Dad or Alive'. He's also a best-selling author of five books and former TV and radio executive. His blog is a humorous unedited chronicle of fatherhood and journeys with his wife and four kids. They currently reside just outside of Nashville in Mount Juliet, Tennessee.