A Guide to Your Pigeon Forge Shows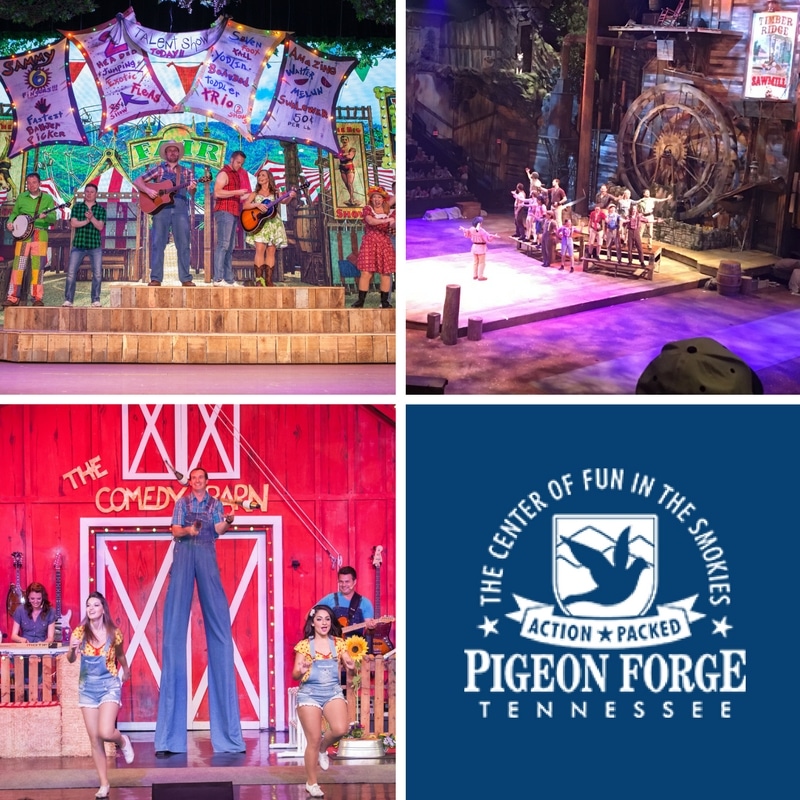 Pigeon Forge is called the Center of Fun in the Smokies for a reason!! It is known for its quality entertainment, and top-notch shows are a big part of that entertainment. There are shows for all interests and best of all, they are all family friendly. Whether you choose to make it a two in one stop (dinner and a show) or just a fun activity, there are plenty of good times and memories in store for you and yours.
Dinner Shows
Dolly Parton's Stampede–  This show has it all….a great bluegrass/country pre-show, a great 4-course meal, as well as a great main show featuring a good 'ole friendly competition between the North and the South.  There are cowboys and cowgirls, singing and dancing, horses and stunt riders, along with very cool light and sound effects. It is a good time for the whole family!
Dolly Parton's Lumberjack Adventure- This is the newest show to hit Pigeon Forge.  The lumberjack theme comes to life from moment you enter the building. You will see lumberjack competitions, some great acrobatics, and even some humor which makes this show a hit! This one also has a fun pre-show and a hearty lumberjack feast.
Hatfield and McCoy Dinner Show– If you are looking for a night of laughs and fun with the family, this is a perfect choice! Lots of great hillbilly yard décor and an outdoor farm adorn the outside. Once you enter, you become a Hatfield or a McCoy and the fun awaits as you prepare to watch these families settle their family differences with singing and dancing, mountain- style. You won't leave this one hungry either with a full Southern homestyle spread brought right to your table.
Shows Only
Comedy Barn– One of the funniest shows around for over 20 years! You get a variety of fun in this show….ventriloquists, comedians, jugglers, and magicians, and of course, some great music. The Comedy Barn also houses the Amazing Animals- Exotic Animal and Pet Show. This fun show features pigs, parrots, cats, dogs, and a mini donkey that will leave you amazed.
Country Tonite–  Music and dancing at its finest, all under one roof. You will hear a variety of music in this 2-hour show. From patriotic to gospel to old and new country music, it has it all. There are youth performers along with some top notch musicians. You don't want to miss this show!
Magic Beyond  Belief– If magic is what you are looking for, then you will want to catch this show. Darren Romeo brings magic to life with his magical illusions. White lions and tigers add to the thrills and fun of this show.
Smith Family Morning Variety Show-  Get your day started off right with Charlie Bob Smith and friends! A little gospel, pop, and country music along with some great impersonations and comedy, all make for a morning of fun for everyone.
Smoky Mountain Opry– This show is a journey of music through the decades with the addition of great costumes and state of the art effects.  You will be absorbed in the music and dancing throughout the show and may even find yourself singing along!
Christmas will adorn many of these shows too. Most holiday shows begin November 1st and run through the end of the year. Be sure to ask about combo rates when you purchase your tickets since many offer discounted rates if you are looking to see more than one show. You will not want to miss any of them this holiday season!