Best Places to Stay in Pigeon Forge for a Fall Couples Getaway
Fall is the perfect time to escape for a romantic trip to Pigeon Forge, nestled deep in the Smoky Mountains. The busy summer tourist season has given way to a slower, more relaxing pace, the weather is gorgeous and temperate, and the colorful fall foliage is on full display.
As you get ready for carriage rides with your sweetheart and romantic dinners for two, take a look at some of the best places to stay in Pigeon Forge for couples this fall.
Plan a Luxury Hotel Stay Packed with Romantic Amenities
Get the best of both worlds when you stay in one of our Pigeon Forge hotels. You're close to all the attractions and things to do on the Parkway, while still getting a sense of luxury and romance. One great option is Jimmy Buffet's Margaritaville Island Hotel, located at The Island at Pigeon Forge. This is where mountain life meets island vibe, and you can escape to the St. Somewhere Spa or have cocktails and a meal on a deck overlooking the Little Pigeon River. Another luxury option is Black Fox Lodge, with beautiful views of the mountains and river and plenty of romantic amenities to fill your days and nights. There's an outdoor pool and fire pit, and it's close to local attractions and entertainment.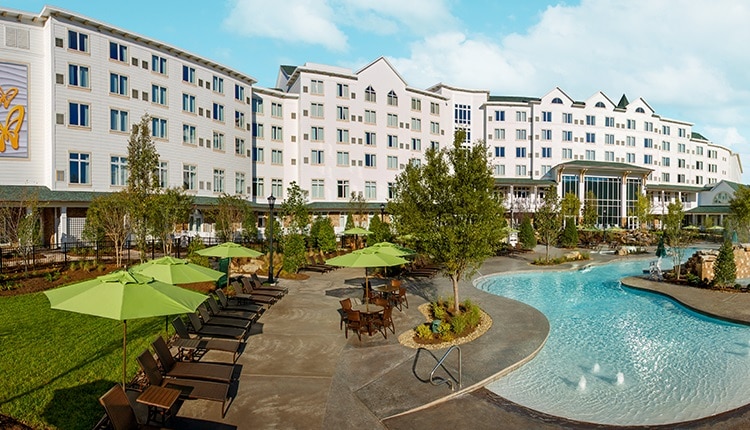 Getaway With Your Sweetheart to a Spa Resort
Just one mile from Dollywood is Riverstone Resort and Spa, where you can stay in a relaxing condo or cabin that's surrounded by the natural beauty of the Smokies. It's one of the best places to stay in Pigeon Forge, and you can take advantage of spa treatments like massages, facials, or nail treatments right outside your door. Another great spa option is Dollywood's Dreammore Resort and Spa, which has the same whimsical and fun feel of the famous amusement park plus romantic spa options to keep you and your loved one busy (and relaxed!). Get pampered as you gaze at the Smoky Mountains in between a couples massage or private facial.

Enjoy Stunning Mountain Views from a Secluded Cabin or Chalet
If you really want to soak in the romance of the mountains, choose from some of our amazing cabins and chalets located close to Great Smoky Mountains National Park, which provide an abundance of outdoor activities for active couples. Eagles Ridge Resort is a mountain retreat offering cabins and chalets, plus a fireplace, whirlpool and hot tub. Another great option is American Patriot Getaways, which gives couples an authentic mountain experience while offering plenty of romantic amenities (and it's a great honeymoon option, too). Choose from a wide array of cleverly named cabins, like A Touch of Heaven, Endless View, or Little Chateau. Another romantic option is Aunt Bug's Cabin Rentals, which offers charming lodging with tranquil scenery, just a short drive from the restaurants and entertainment in the center of Pigeon Forge.
This fall, head to Pigeon Forge for a romantic getaway for two. Some of the best places to stay in Pigeon Forge for couples are in and around the center of town, making it easy to have spa treatments, candlelight dinners, and secluded mountain views all in one unforgettable fall vacation that's full of romance and relaxation, mountain-style.