A Couples Guide to a Romantic Getaway in Pigeon Forge
Fall is a great time of year to slip away to Pigeon Forge for a romantic getaway. Between nonstop summer activities and the beginning of the holiday rush, this time of year tends to be more relaxed. The temperatures in the area get cooler and fall foliage comes to fruition. It's the perfect time to head to the Smoky Mountains for a couples weekend!
Take in the Amazing Views and Fall Colors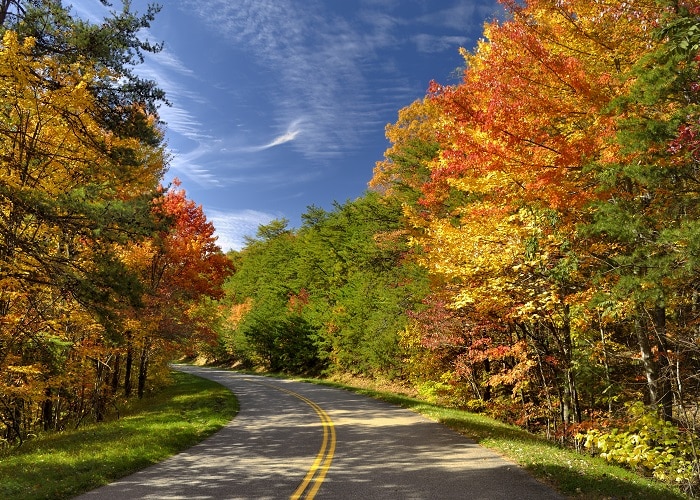 Drive to Clingman's Dome in the Great Smoky Mountains National Park. It sits at the highest point in the park and the viewing tower allows for an incredible 360 degree panoramic view. On a clear day, you can see into seven different states!
Peak season for viewing the fall foliage in the area is mid to late October. The area is filled with trees and wildflowers which help make the fall season come to life. Grab your camera and head out with your significant other for a walk or a drive. Here's a list of some of the best places to see fall foliage in Pigeon Forge. You will not have to look far to see the rich beautiful fall colors!
Go for a Romantic Ride Together
Snuggle up to your loved one on a horse drawn carriage ride. Heritage Carriage Rides offers rides from the Walden's Landing area beginning at dark and running until midnight. The cost is $30 per couple for a 15 minute ride. You will surely feel like a true prince and princess!
Another option is to take a ride on the Great Smoky Mountain Wheel at The Island in Pigeon Forge. The gondolas are glass enclosed, so whether you choose to take a ride during the day or at night, get cozy and enjoy the amazing views.
Relax, Rewind and Spend Quality Time Together
Pamper yourselves with a massage! Several spas in Pigeon Forge (St. Somewhere Spa and The Spa at Riverstone Resort) offer couples massage packages that will have you both feeling rejuvenated!
Rewind and enjoy some down time in one of our area cabins or hotels. Enjoy amenities like a hot tub on the back porch of your cabin or a view of the Island fountains from your balcony at the Margaritaville Island Hotel. You will not want to return to reality!
Spend some quality time together over dinner at one of the amazing restaurants in the area. Whether you are in the mood for Southern comfort food at The Old Mill restaurant, a hand cut Angus steak at Alamo Steakhouse, or maybe some slow smoked BBQ at Bennett's Pit Bar-B-Que, your time together will be special and your taste buds will be happy!
Enjoy fall with your loved one on a romantic getway in Pigeon Forge!