Dollywood's Splash Country
A Beginner's Guide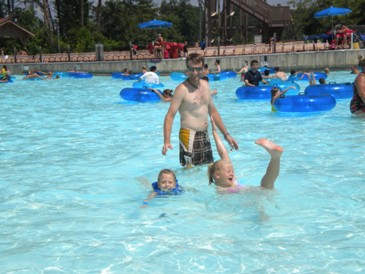 Nothing beats the summer heat better than splashing around an adventurous water park! Dollywood's Splash Country has been voted one of "America's Best Water Parks," and our family agreed 100%! Nestled on 30 acres in the setting of the Great Smoky Mountains, this park has a little bit of everything with pools, raft rides, slides, and plenty of places to lounge around in the sun. There is fun to be had by the whole family from the daredevils to the less adventurous.
Our first family adventure was a trip down the lazy river. We laid back and floated down this 1,500 foot river while taking in the beautiful surrounding scenery. There is even a waterfall for those who wish to get a little wetter. The next stop on the little divas' agenda was the wave pool. They grabbed dad and waded out to wait on the waves while mom took camera duty! Waves are set to go off on fairly frequent basis so they did not have to wait long to enjoy the fun.
Neither of the little divas, nor mom, were feeling brave enough to take in any of the big slides. However, we took in 2 really fun family raft rides- Big Bear Plunge and Raging River Rapids. The whole family can ride together in a raft on both of these rides. Both offered plenty of twists and turns and lots of splashing.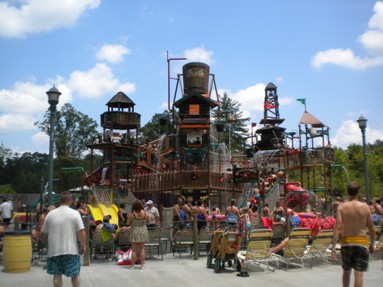 After the raft rides, we made our way around to check out the 3 different kid areas. The Cascades is a lagoon style pool with slides and water sprayers and Bear Mountain Fire Tower offers lots of water and climbing. Both of these were a hit for our family. There were things in both of these areas that occupied both of the little divas. Little Creek Falls is more for the smaller tykes and has signature butterfly shaped shades. We did not spend a lot of time here but the little tykes that were there sure looked like they were having fun!
Of course, no outing is complete without snacks! There are plenty of snack shacks throughout the park. We took a break for a mid afternoon snack of nachos and chili dogs. Also, make sure to take your refillable Dollywood mugs or purchase one of them at Splash Country as they offer drink refills for considerably lower prices when you use them.
Dollywood's Splash Country offers some great amenities for guests- life jackets and rafts/tubes are provided free of charge. Lockers are available to rent for storing personal belongings and are conveniently located within the park. For those who so wish, there are covered retreats and canopies for rent as well. The retreats are great for families who wish to have a place to take a break from the sun and the canopies are perfect for couples. Unfortunately, I didn't get to experience this firsthand, but massages are even available to retreat and canopy guests!
If you are in the Pigeon Forge area between Memorial Day and Labor Day, then you will definitely want to check out Dollywood's Splash Country!