Where to Eat Pancakes in Pigeon Forge
One of the best parts of any vacation is the specialty food you treat yourself to that doesn't happen when you're at home. And one of our favorite vacation foods is a big plate of sweet, fluffy, made-from-scratch pancakes. If you're in agreement, feel free to make your way to each and every place to eat pancakes in Pigeon Forge–there are several and they're all amazing! Which will be your family's new favorite breakfast spot?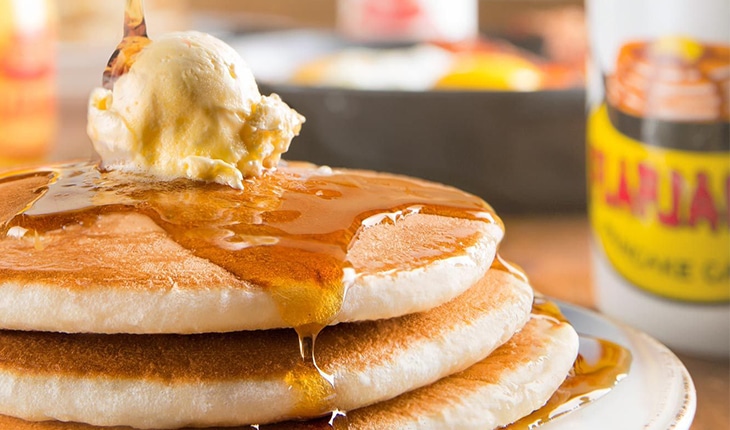 Treat your kids to a pancake breakfast like they've never seen: one in the shape of a grizzly bear, complete with chocolate sauce smile! That's just the beginning of the fun and yummy things on offer at Flapjack's. And it's no surprise–they've been in this business for 50 years. For those who show up to the log cabin with a more hearty appetite, there's no shortage of omelets, grits, oatmeal, or sausages being fried up in the kitchen. We can't write about Flapjack's without mentioning their famous sticky bun pancakes; give them a taste!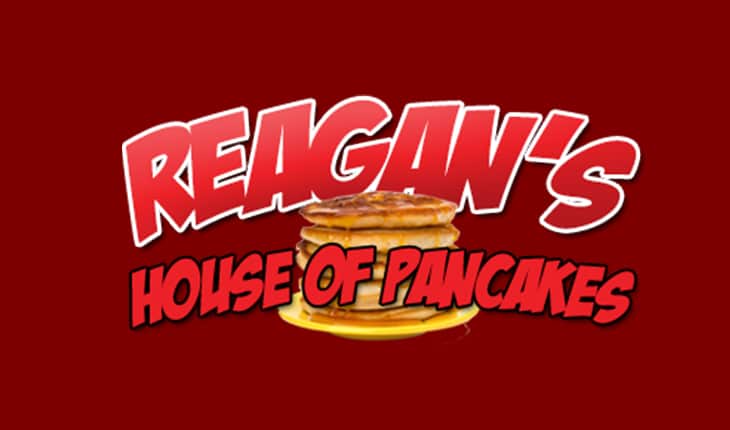 Buffet-style breakfast at its finest! Fill up your plate with country ham, Belgian waffles, classic buttermilk or fruit pancakes, and all your favorite sides. Reagan's has been feeding hungry locals and travelers to the Smoky Mountains for almost 35 years and plenty of folks call it the best pancake house in Pigeon Forge.
(Pro Tip: Kids under four eat free! Download our Travel Guide for a 15% off coupon good at both Reagan's locations for the rest of the family.)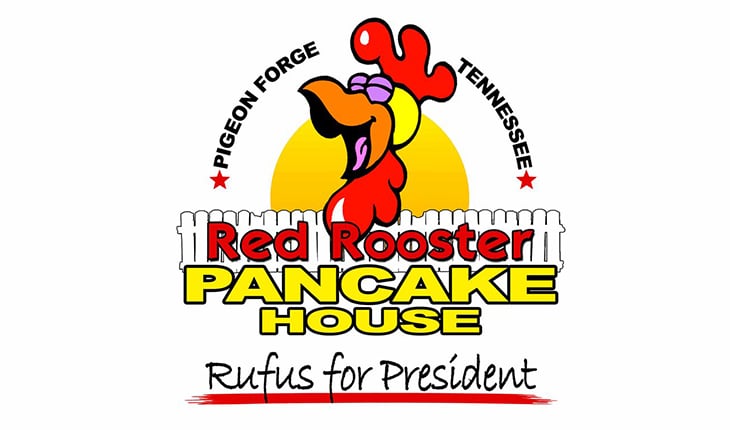 Cute, comfortable dining room, big portions of delicious breakfast platters and friendly attentive staff will greet you at this pancake house. Locals love to recommend the chocolate eclair pancakes or the corned beef hash for those with a savory palate. Start your day at the Red Rooster or stop in for a quick lunch on your way out to a Smoky Mountain hike.
Sawyer's is one of the newest pancake joints in Pigeon Forge, but it's wasting no time making a name for itself. With the juicy blueberries bursting inside every bite of blueberry pancake, to the very accommodating kid's menu, Sawyer's Farmhouse Restaurant is a great place to take your family on a vacation morning. If you're looking for something a little different for breakfast, try a crepe filled with their secret cheese blend and topped with mountain berry compote.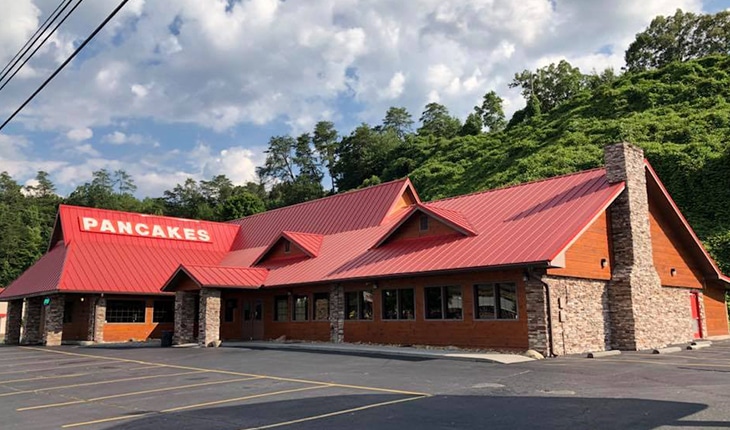 Let the family who runs this incredible breakfast spot feed your crew of hungry bears! The bear family on the restaurant logo can come home with you, if you head to the attached shop after you've filled your bellies. When you order pancakes at this spot, you'll get a tall, fluffy cake made to order, that will come out filling the plate to the brim.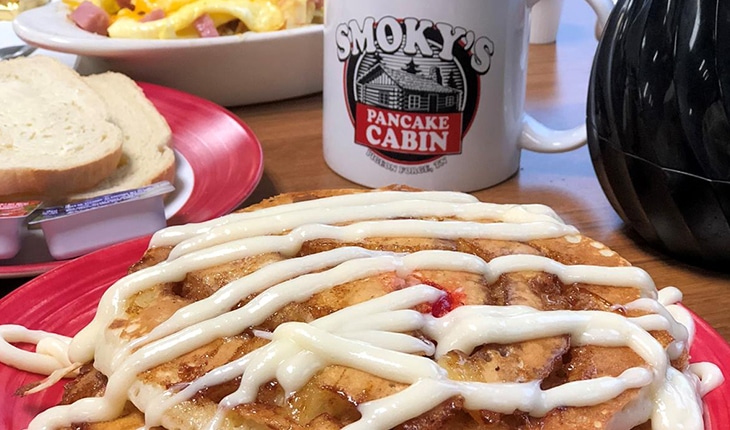 Yes, of course, with a name like Smoky's Pancake Cabin, they have incredible cakes. But don't stop here for breakfast without ordering the biscuits and gravy–they're out of this world! Try fresh fruit toppings on your pancakes or go for the french toast with spicy apple filling if you're in the mood for pie for breakfast. Smoky's Pancake Cabin is famous for their pineapple upside down pancakes, so get up early and get a seat before the place fills up.
As you can see, there's a plethora of pancake house options in Pigeon Forge. Try a different spot each morning you're in town or find a favorite and become a regular. Bon Appetit!