Kid Friendly Dinner Shows in Pigeon Forge the Whole Family Will Love
Pigeon Forge is home to a variety of fun family dinner shows and entertainment. These kid friendly dinner shows in Pigeon Forge are perfect for unwinding at the end of a busy vacation day. You get dinner with the added bonus of fun and entertainment!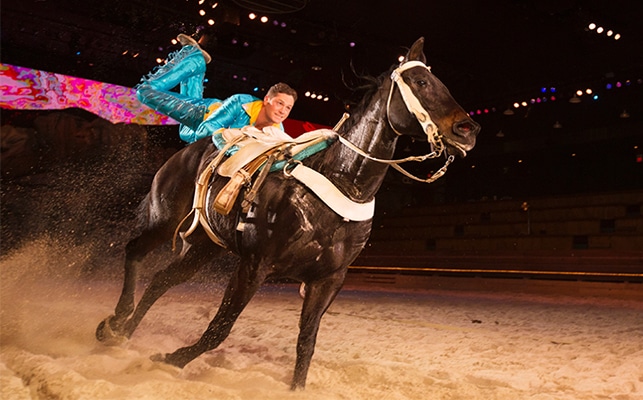 Dolly Parton's Stampede continues to be one of the most popular dinner shows in Pigeon Forge. And you'll quickly see why. Arrive early so you can walk alongside the open air stables and get a sneak peek at some of the horses, then head for the saloon for live entertainment and snacks that will get you in the mood for the fun ahead.
An amazing four-course family feast is served featuring kid-favorites such as rotisserie chicken, home-made biscuits and flaky apple pastries. The show features magnificent horses with their riders attempting daring feats that will keep the whole family on the edge of their seats. Audiences are divided and encouraged to cheer on their side as the riders compete in a few friendly competitions. It's easy to see why Dolly Parton's Stampede is one of the most fun places to eat in Pigeon Forge!

You're sure to love the all-you-can-eat, family dinner adventure that is served up at Hatfield & McCoy Dinner Feud. You'll find yourself completely caught up in the singing and dancing, high-flying stunts and hilariously funny comedic sketches between these two infamous feuding families.
Dinner is served family style and its all you can eat, so you definitely won't leave hungry. From heaps of fried chicken and pulled BBQ pork to creamy vegetable soup, Granny's special dessert and more delicious food, its country cooking at its finest. This hoedown between the Hatfield's and the McCoy's is an all-around good time!

Ahoy mateys! The new Pirates Voyage Dinner and Show is a must-see for the whole family. Join the famous pirate Blackbeard and his quarter master, Calico Jack as they lead the Crimson and Sapphire crews in a series of battles on deck, on land, in the water and high above the pirate ships in this indoor lagoon.
Families will enjoy the fabulous four-course feast that includes biscuits, pan-fried chicken, pork chops, sweet potato souffle and more. Just make sure to leave room for a peach turnover to finish things off. Its a feast fit for a captain!
From the sounds of music to the laughter of gut-busting comedy to the mysteries of magic, don't miss out on these and even more great shows in Pigeon Forge that are perfect for the whole family.