Favorite Picnic Spots in Pigeon Forge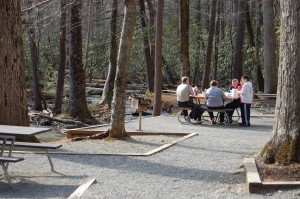 Summer is a great time to throw a blanket down and enjoy a picnic with your family. There are no better memories for us than the ones where we are just hanging out and laughing together. Picnics are a great time for just that. I love the conversations that spark up and best of all I just love our time together as a family. Here are a few of our favorite picnic spots when we visit Pigeon Forge.
Great Smoky Mountains National Park has so many options. Here you really do not need to have a spot picked out. Just pack a backpack with your necessities and take off for a hike along the many trails. When you find the perfect spot, you can just stop and set up your picnic. However, for those planners that need definite locations, there are places throughout the park with picnic tables. You can find these on the park maps in the Sugarlands Visitor Center or download one from their park website.
Wear Farm City Park – You can make it a day at this park! This is a great place if you have little kids or large families. There are covered pavilions with picnic tables that offer a nice shade and even a charcoal BBQ grill if you prefer to cook up burgers and hot dogs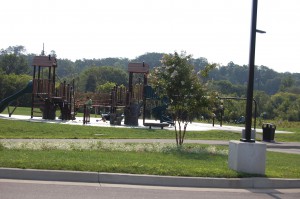 when you get there. The kids will be entertained with the 2 big playgrounds and basketball courts and there is even a walking trail for a nice family walk after your meal.
Patriot Park – This park is big and open, so you will not have any trouble finding a spot to lay out a picnic blanket. There is also lots of room for playing Frisbee, throwing a ball around, or even flying a kite. Patriot Park is located near Old Mill Square where you can do a little shopping afterwards and even grab an ice cream cone for dessert!!
Riverwalk Trail – This is one of my favorite spots. The scenery is beautiful and so peaceful. I love walking along the Little Pigeon River after we eat and watching the girls feed the ducks. Fun times and memories!!
Make sure to make "having a picnic" part of your agenda on your next visit to Pigeon Forge so your family can enjoy these great picnic spots too!!
Here is a fun trail mix that we like to have in our picnic basket:
Bear Lake Trail Mix
· 1 (18.75 oz.) bag Chex Mix Traditional Snack Mix
· 2½ cups Bugles
· 2½ cups Chocolate Chip Teddy Grahams
· 1½ cups Pretzel M&Ms
· 1 cup licorice bits
· 1½ cups Swedish Fish
· 1½ cups Gold Fish Crackers
Mix all ingredients together and enjoy!!