Fun Family Getaways at Music Road Resort in Pigeon Forge, Tennessee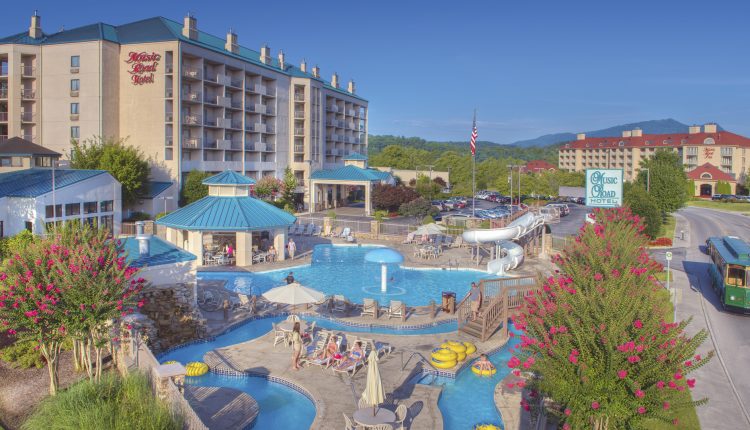 Rest and relaxation, or fun and entertainment right outside your front door – whichever you prefer, you can find it at Music Road Resort. Conveniently located at Traffic Light #1 off the Parkway, Music Road Resort Hotel and Music Road Resort Inn are both close to the action in Pigeon Forge, that is, if you decide to leave the room.
Rooms at both properties are 30% larger than standard hotel rooms and feature private balconies. With incredible views of the Little Pigeon River and Great Smoky Mountains from Music Road Resort Hotel and a bedside Jacuzzi and fireplace at Music Road Resort Inn, you may be just as content staying in.
We can't forget to mention the two (that's right, we said TWO) seasonal water parks on the property. And of course, it wouldn't be a true water park without a slide! The fun water features and the lazy river will keep the kids entertained all day so parents can sit back and relax in the cabanas that are open between Memorial Day weekend and Labor Day weekend. For those times when it's not necessarily outdoor weather, Music Road Resorts have you covered with two indoor heated pools to choose from.
A free breakfast is provided at both Music Road Resort properties, offering a great way to fuel up and prepare for a busy day ahead. An on-site Concierge is more than happy to answer any questions or help you narrow down what fun things there are for you and the family to do – after all, there is a lot to choose from!
You can even book a Concierge Package that gives you a vacation plan plus credits to use towards special pricing at local attractions, dinner shows, dining, in-room services, outdoor activities and more! Music Road Resort is known for their great package deals so be sure to check them all throughout the year.
Start planning your summer family getaway at Music Road Resorts today!